Join us for the EC Keep Watch Prayer Walk this Wednesday at 8:20am. Can't join us in person! Pray along with us from wherever you are!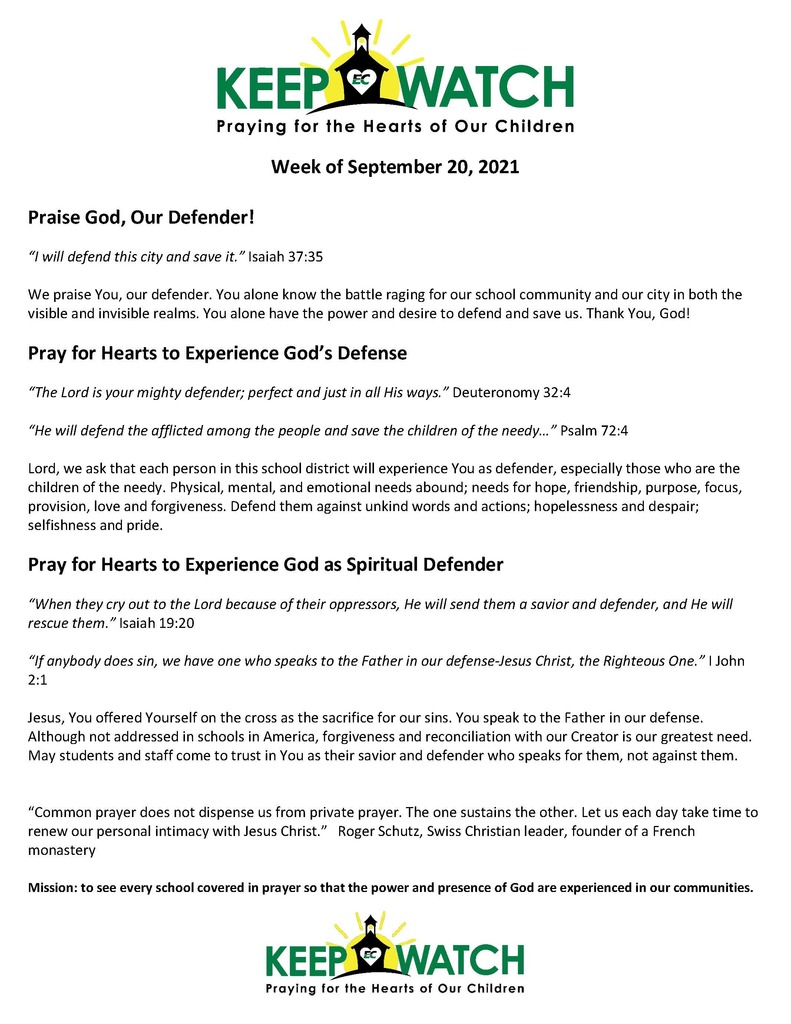 Congratulations to our very own WARRIOR, Ashlyn Woody who earned the Silver Star award in Girl Scouts. The Silver Star award is the highest award a Cadette can receive. In order to earn her Silver Star Award, she worked with Senior Citizens at a retirement community. The grounds are under going landscape remodeling. To help the seniors feel a part of the planning she organized and planned a rock garden activity for them where they designed rocks and place them in areas and got mums for their patios. COVID has limited activities for the seniors so this project helped to boost their physical and mental health. Ashlyn is currently involved in North Region Honor Guard and is also serving in the community and Veterans. She is Captain this weekend and will be doing opening ceremonies with the Honor Guard for the National Anthem at the Mud Hens game Sunday, 9-19-21. She will also travel to Wolverine Lake, MI on October 9, 2021 to do a flag ceremony and pack over 1,000 care packages for military and participate in Wreaths Across America in December placing wreaths on Veterans graves. Ashlyn now moves up to start earning the highest High School award - the Gold Star. Congratulations Ashlyn...we are so proud of you!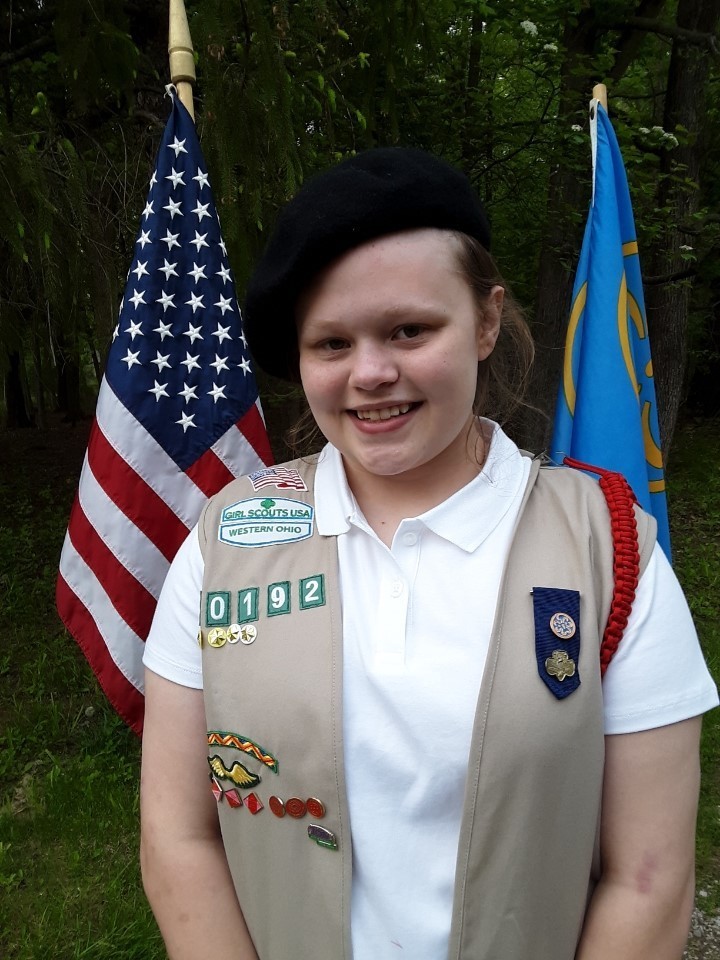 Littles Soccer games start on Saturday at Erme Field which is adjacent to the Washington Local Library on Harvest Lane. Be sure to check your email for the complete season's schedule. If you ordered items from WLSC, your player's coach will distribute those items prior to the start of Saturday's game. Be sure and arrive at least 20 minutes before your player's game time! Go WARRIORS!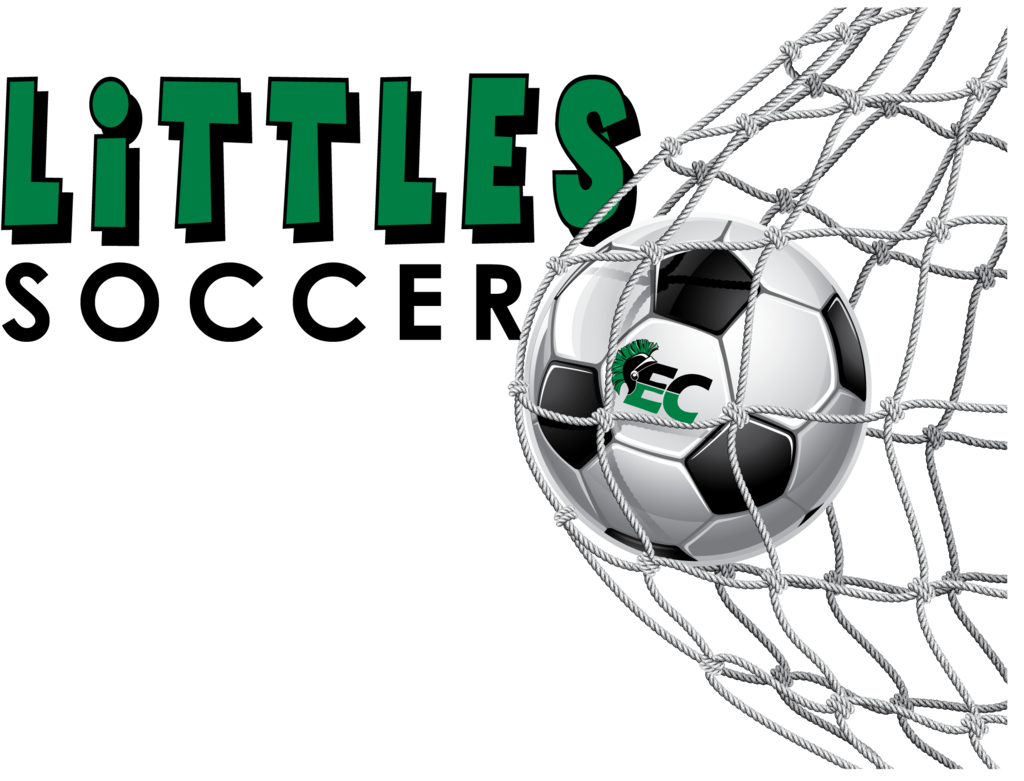 We LOVE to see our WARRIORS go on to showcase their talents beyond high school! A big shout out to Jett Wisnofske who is now a Lourdes University Grey Wolf and has received an athletic scholarship to "run with the pack". Congratulations Jett!
How to "win" at Show and Tell - (1) - Bring an Olympic Bronze Medalist (2) - Include Ice Cream! A big shout and thank you to Olympic Bronze Medalist Oshae Jones who took time out of her busy schedule to be the the special SHOW and TELL guest of her niece, Isabella Sims in Mrs. Winslow's class. Oshae is a true WARRIOR! She lost a lot of her possessions in a fire just 30 days prior to the Olympics...and yet she went, competed, and earned a medal. Thank you Oshae for spending time with us!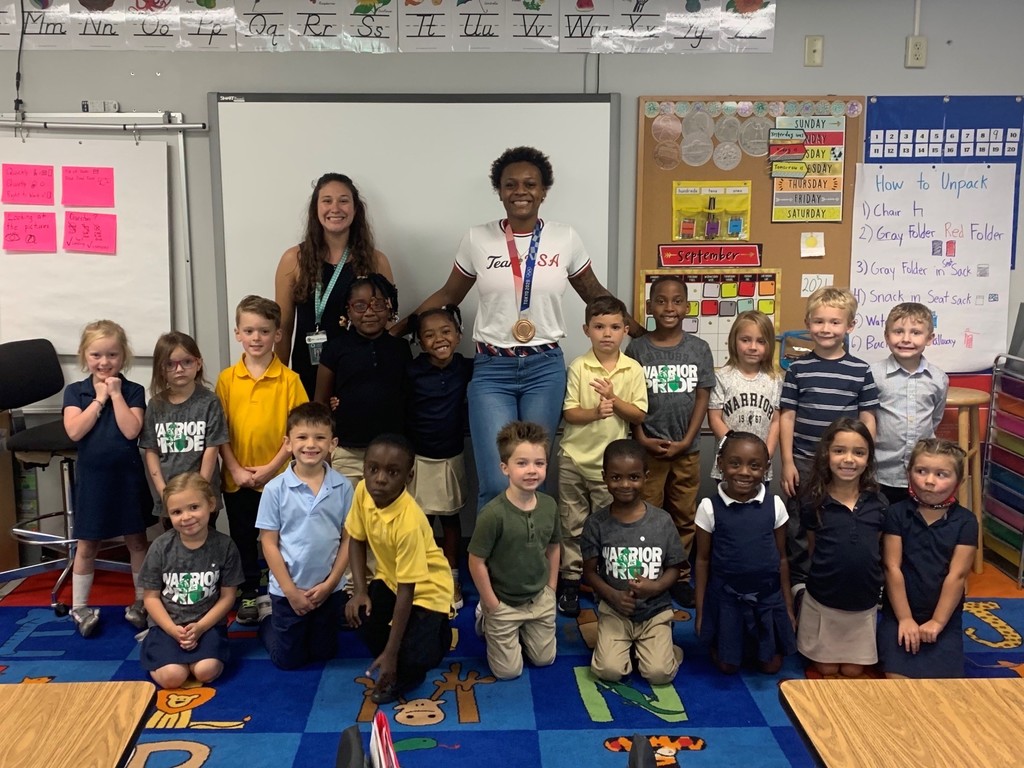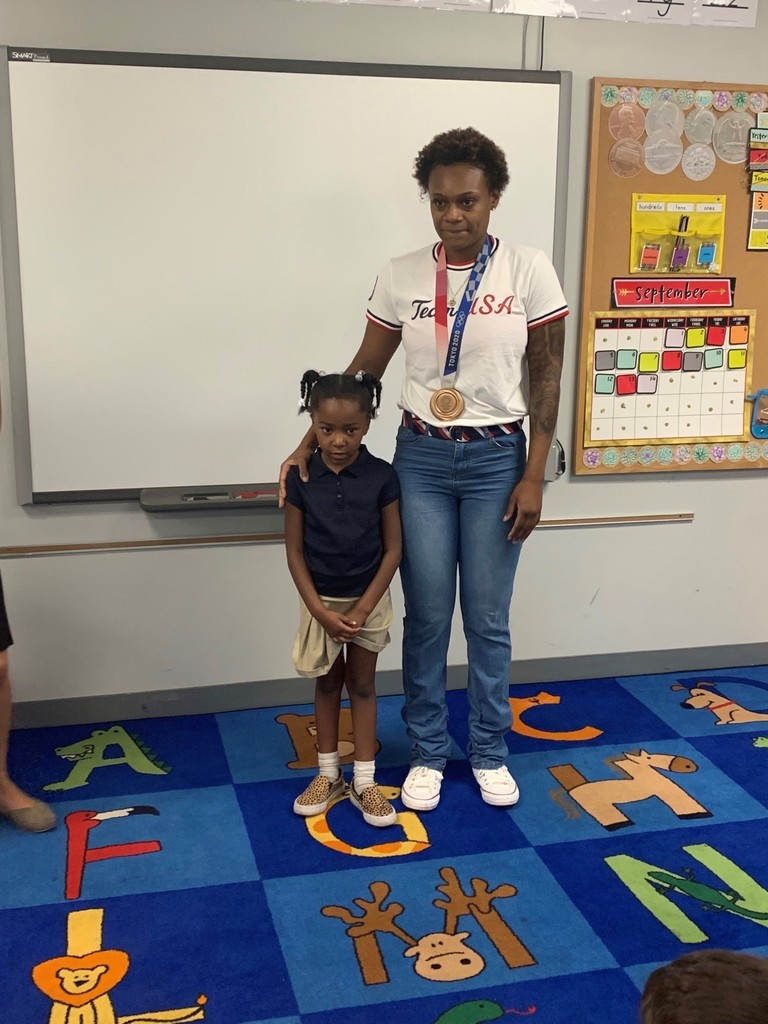 Spirit Week 2021 is only two weeks away! Be sure to check out each day's theme to show your WARRIOR spirit!
Tonight's the night! Be sure to join us for the Chipotle fundraiser between 4 and 8pm at the Talmadge location! Flyers will be distributed during today's dismissal. See you there!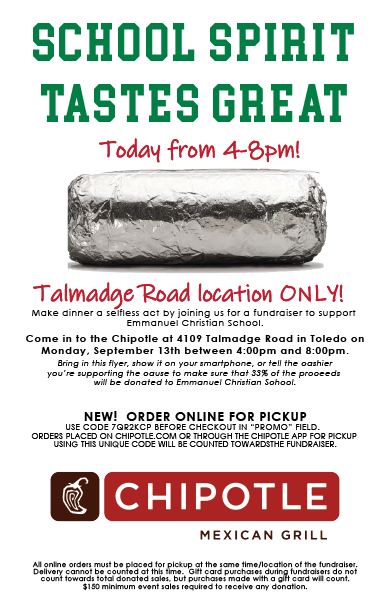 September College Visits! If you and your student would like to meet with any of the college representatives while they are on campus, please email
vchubb@ecstoledo.org
to coordinate an appointment time.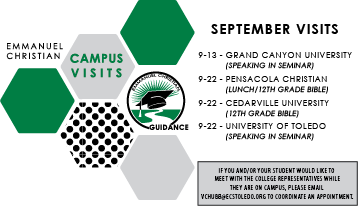 Lego Robotics is back! Lego Robotics is the EC team that competes in the First Lego League where students take a hands-on approach to STEM (Science, Technology, Engineering, and Math). The students gain real-world problem-solving experiences through a guided global robotics program. Friendly competition is at the heart of the League Challenge, as teams of students in grades 7 and 8 engage in research, problem-solving, coding, and engineering in order to build and program a Lego robot that navigates the missions of a robot game. All students in grades 7 and 8 are eligible to participate. Student sign-up sheets are in Mr. Miller's classroom. Practices will be two days a week, starting on 9-17-2021 at 3:30pm. Going forward, we are tentatively planning on Fridays from 3:30-5:30pm and Saturday mornings from 10am to 12pm. Look for details on a parent meeting to get all of the pertinent details.
Just in! Stylish spiritwear items are now in stock that look cool but keep your WARRIOR warm! Stop and shop 8am to 4pm in the middle/high school office. Questions? email
admissions@ecstoledo.org
. Limited quantities so get yours today!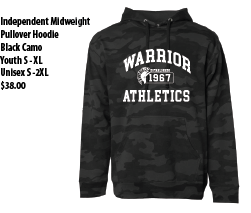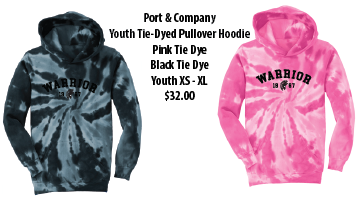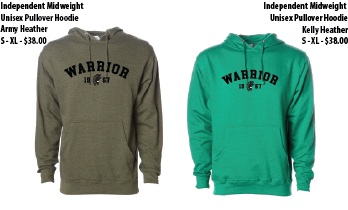 Just in! New WARRIOR spiritwear items in stock for cooler weather! Stop and shop 8am to 4pm in the middle/high school office. Questions? email
admissions@ecstoledo.org
. Limited quantities so get yours today!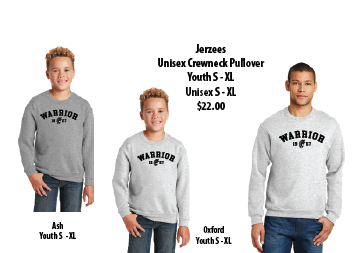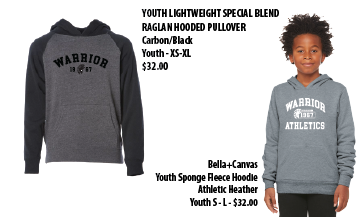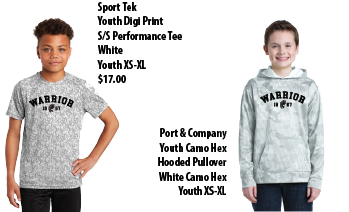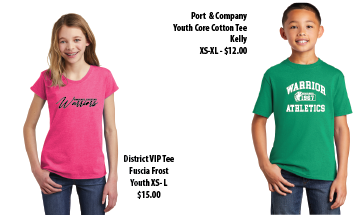 Pray with us this week!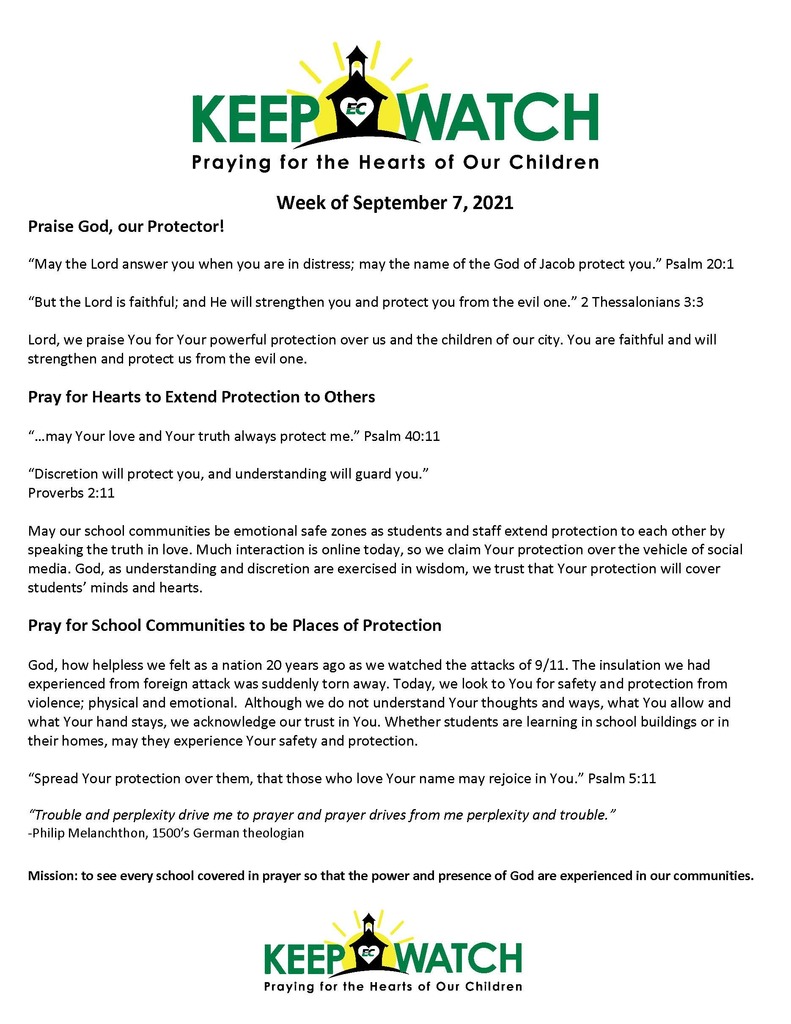 Students in grades TK-12 received their very own 2021-22 school shirt! These one-of-a-kind shirts cannot be reordered, so make sure that yourstudent doesn't lose their shirt! (literally!) The 2021-22 school shirt IS 100% school uniform approved and can be worn to to school. We will have extra shirts available for purchase for $15 while supplies (and sizes) last. If you would like to show your WARRIOR PRIDE and want to purchase shirts for you or other family members, please send an email to
admissions@ecstoledo.org
. Be sure to specify sizes so that we can set them aside for you. The cost can be charged to your FACTs account.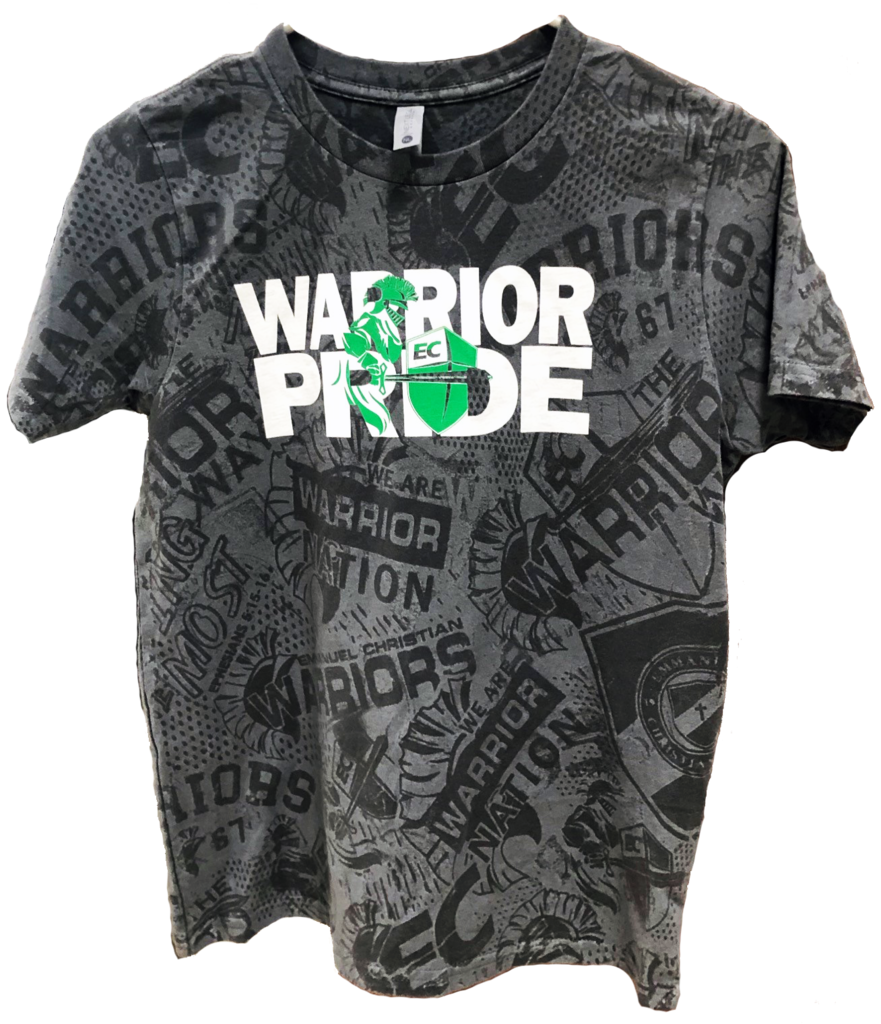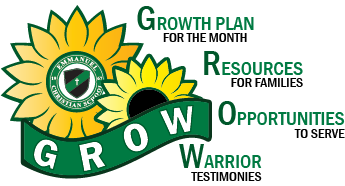 September Opportunities to Serve Elementary needs a few volunteers to serve during breakfast daily from 8:10-8:40am (M-F) email
msampson@ecstoledo.org
Athletics Coaching - 7th/8th grade basketball coaches are needed Gate and Concessions help is needed! email
jshuman@ecstoledo.org
If you would like to be notified of all volunteer opportunities, please email
kfrench@ecstoledo.org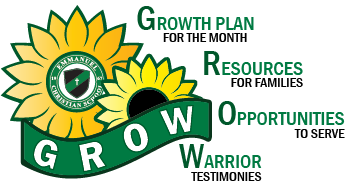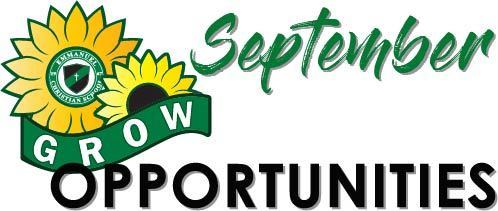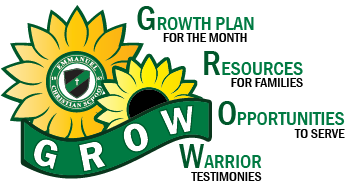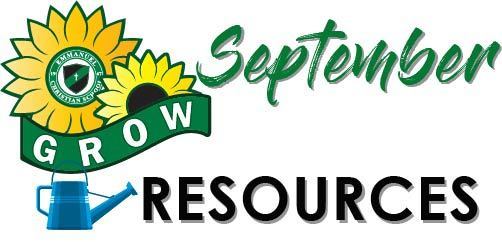 Our theme this year is "Making the Most", based on Ephesians 5:15-16. Each month, the WARRIOR community will emphasize an avenue of grace and a character quality to encourage students to "make the most". The avenues of grace train students on how to grow. The character qualities demonstrate the result of growth. In September, TK-12th grade students will focus on the practice of solitude (avenue of grace); additionally the gospel will be preached at every chapel. Biblical solitude takes place when Christians intentionally carve out moments with God. Even Jesus "often withdrew to lonely places and prayed" (Luke 5:16). Next we will focus on patience (character quality) which occurs when one remains steadfast and faithful to God under the challenges of life. Please pray that our high school students will learn more about "Making the Most" at their fall retreat this week and that God will use these moments to transform our community.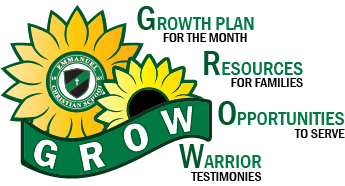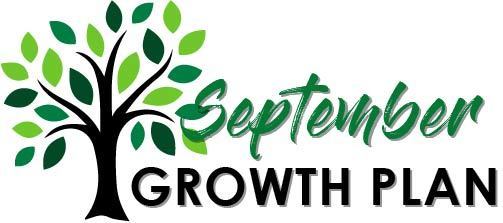 The Littles soccer season has arrived! Practices start next week for all teams (K-5th). Parents! please check your email for specific details on your Little's team, practice days, and times. The game schedule will be shared as soon as we receive it from WLSC. Let's go WARRIORS!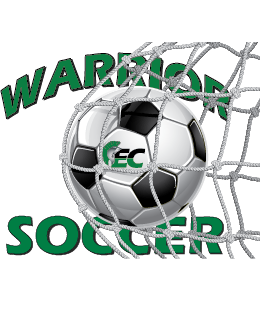 We can't wait for the 2021 High School Retreat next week! All students will be brining home a flyer, along with the permission slip that must be signed and returned by Tuesday!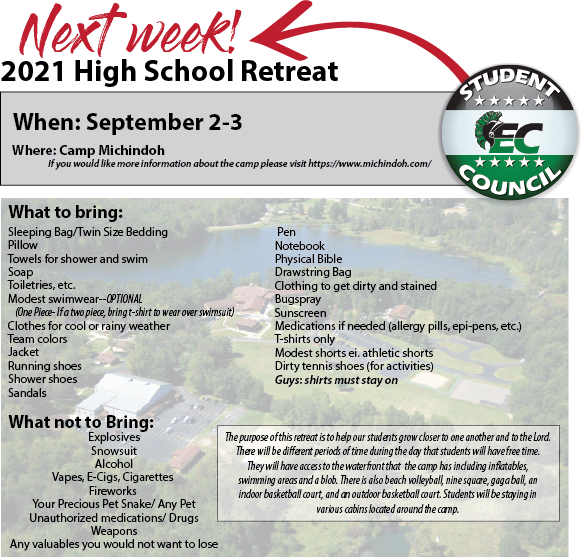 Our students are so creative! Olivia George made our library out of legos, complete with a scanner for the books, a window that opens to a book return, and a "swinging gate" to keep people from going behind the desk, ! Thanks you to Mrs. Blackford for encouraging their creativity!!