Happy Friday! It's a LONG weekend, so take a few moments to get updated on all things WARRIOR in this week's edition of the WARRIOR Weekly at
https://5il.co/om3g
We will see everyone on Tuesday!

We are proud to name our WARRIOR of the Month nominees for the month of December who demonstrated the character quality of COOPERATION and the WARRIOR Way! Ganchou (TK):. Bella Sadorf Bella is a bundle of energy throughout the day who strives for perfection. She struggles with confidence in herself when she is asked to complete new tasks, but she will follow my suggestions and will always complete each task with a smile on her face. She has set an example for her classmates in how to not give up and to follow my guidance in everything that is asked of each one of them no matter how difficult the task may be. Great job Bella. Stout (K): Clara Zongo Clara is a hard worker and always follows directions the first time they are given. She is kind to those around her and a helpful friend to those in need. Great job Clara! Wilt (K): Kamryn Kim Kamryn is always so willing to go with the flow of the day, even when there are interruptions and the schedule is thrown off. He always has a happy heart and continuously strives to do what is right! Jutte (K):. Marshall Keel He is able to collaborate well with others. He is usually showing others how to work well with others. I am able to partner Marshall with any child in the room and I am confident he will work well with them. Skiver (1st): Chalize Mack Chalize is always willing to problem-solve with other students. Whenever she has a disagreement with someone, Chalize is usually quick to apologize or forgive in order to restore the relationship. She shows cooperation by working well with everyone. Pierce (1s): Isaac Worley Isaac has such a great attitude and is always ready to help a friend or do a classroom job. How impressive he was as we were heading toward Christmas! He continued to be cooperative and followed directions as the excitement of Christmas grew. Way to go, Isaac! 1 st Floor Winner: Kamryn Kim Tolly (2nd): Nathaniel Victor – Nathaniel is a very cooperative second grade student. He demonstrates this cooperative spirit on a daily basis by obeying directions, as well as school and classroom rules and procedures. Nathaniel does this with a willing attitude ... a cooperative spirit. When he is working with other students, he works well with them, cooperating with the group's ideas and suggestions. Nathaniel is well deserving of December's Cooperative Student of the Month! Holloway (2nd): Lavender Wells – Lavender does a great job of sharing information to help her classmates. Lavender is always on task at transition time. She is organized, and has her materials at hand. Without my prompting, she consistently holds her materials in view of the camera so that the other e-learners can find what they need. She is independently offering support and cooperation to advance our studies. Henisse (3rd): Julian Stuchel – Julian is always ready to work, and if the plans change or as the need arises to change our plans he is ready. Julian always cooperates with his classmates, friends, and teachers. Wilcox (3rd): Faith Blackford – Faith is always willing to work with her fellow classmates. She is a great team player! Kickbusch (4th): Matthew Dodds – Matthew is always happy to adjust his plans in order to support and encourage others. He was super willing to step in at the last minute this quarter to help Miss Youngblood in band and did so with a wonderful attitude! Matthew has a heart that shows he wants to work with others in order to help them succeed! Ruiz (4th): David Thomas – I chose David for our character quality of cooperation. David is new to ECS and has had great accomplishments since joining us. David is always happy to work in groups and is excited to work with anyone that may need a partner. He has a great attitude and works with others to complete a task quickly and correctly. David also shows cooperation when working with me. He is willing to listen and work together to fix his mistakes and grow more in our classroom! Lykins (5th): Lydia Osmun – Lydia always has her materials out and actively participates in daily lessons. She consistently turns in her homework and just makes learning a more positive experience for the entire class. Sampson (5th): Emma Bernhard – Emma is always hard working and willing to obey with anything. She always asks permission to read in the back or study with a partner before doing so. If for some reason she can't she still has a happy heart and obeys with cooperation. Her classmates know that Emma will always follow direction and instruction with cooperation. 2nd Floor Winner: David Thomas (4th Grade Ruiz) Middle/High School The middle and high school nominees for December are: Ethan Waywood – Ethan is new to ECS and came into the school office the other day with one of our brand new students to help that student navigate things. Ethan engaged the other student in conversation in order to make him feel welcome. That warmed my heart! Jerry Easter – Jerry has shown a very high level of determination and diligence both in and out of class. Keep up the great work! Janiya Pettaway – Janiya is always kind, respectful, and willing to help anyone out at any time. She is not afraid to stand up for what she believes in and takes her choices seriously. It is unusual for a student to be nominated by multiple teachers and staff, but this month, Elliana Sadorf was nominated by two different people. Here are just a few of things people had to say about Elliana: I nominate Elliana for always striving to do her best; academically, socially, and behaviorally. My student nominee, who demonstrates the character quality of cooperation is sixth grader Elliana Sadorf. Elliana is a very kind student who exudes positivity and politeness. She happily follows school and classroom procedures and regularly volunteers to help me in both English and Study Hall. In II Corinthians 9:7 we read that God loves a cheerful giver…well that's you Elliana! Keep sharing your light for the world to see! And that is why Elliana has been named our MS/HS WARRIOR OF THE MONTH winner for December!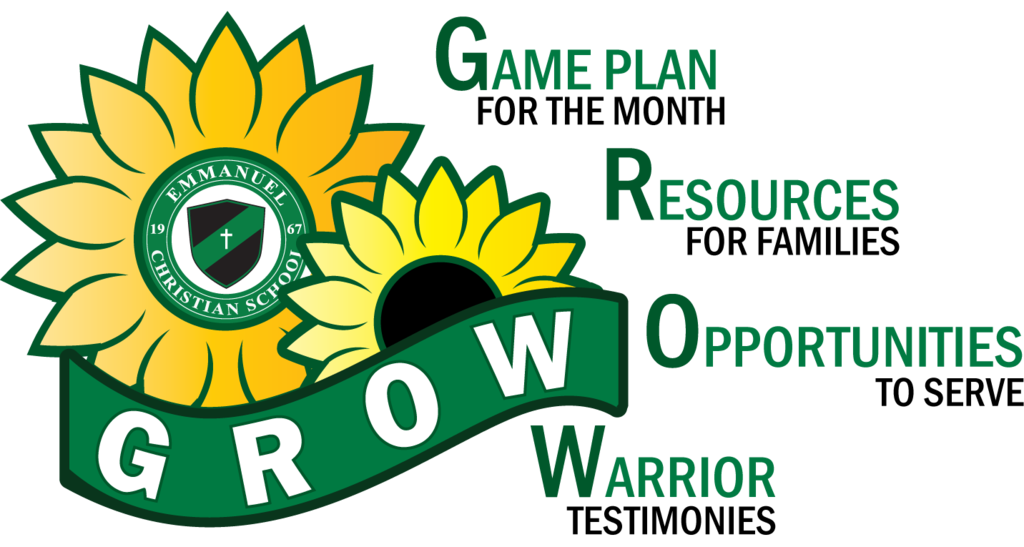 We are kicking off the new year with a study of the ARMOR character quality of Loyalty: a strong feeling of support or allegiance.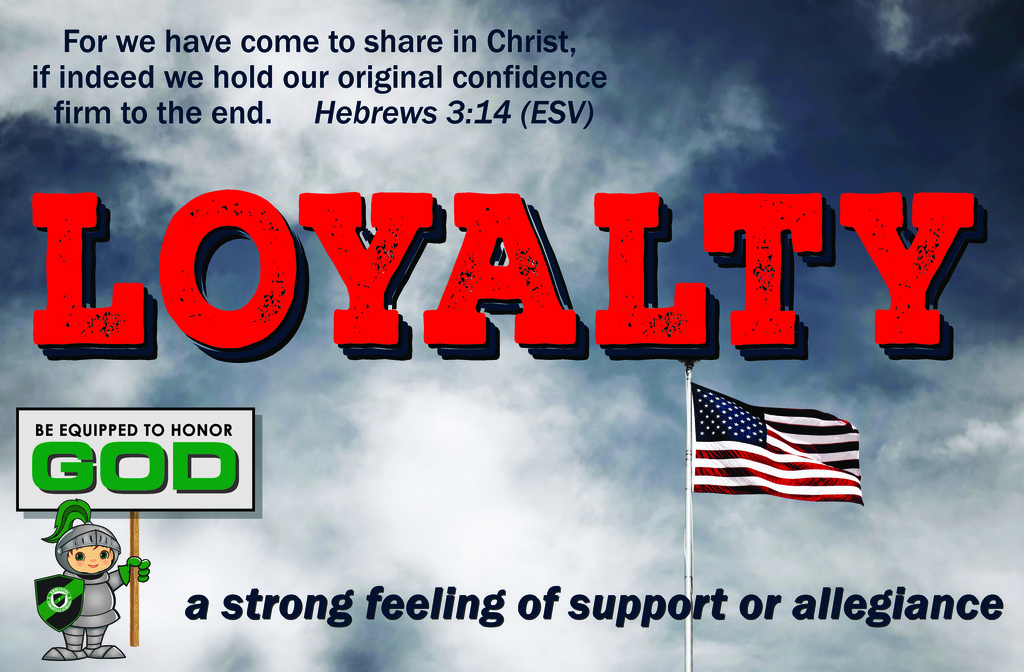 Apparently Mr. Hofer needed a flatbed to pick up all of the pizzas for our elementary class parties! We hope everybody had a great time celebrating the end of first semester! See you all in January!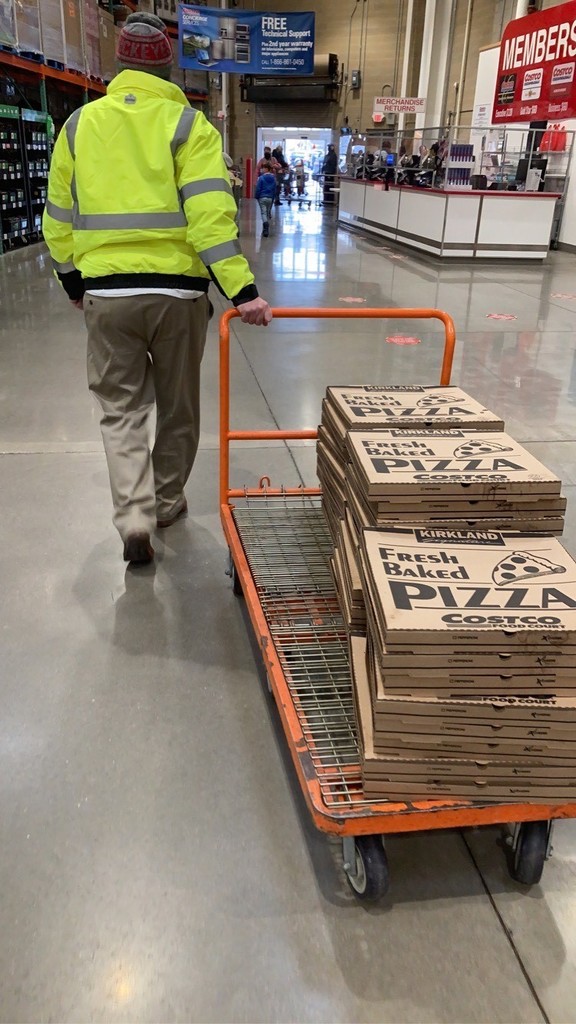 We are so excited for the arrival of our newest WARRIOR...baby Krueger is expected soon! Congratulations to the Kruegers!
Help support the Lady Warriors and hit the easy button for dinner tomorrow night with Chipotle! Order online or through the Chipotle app using the promo code. All orders placed between 4-8pm will help to raise funds for our WARRIORS!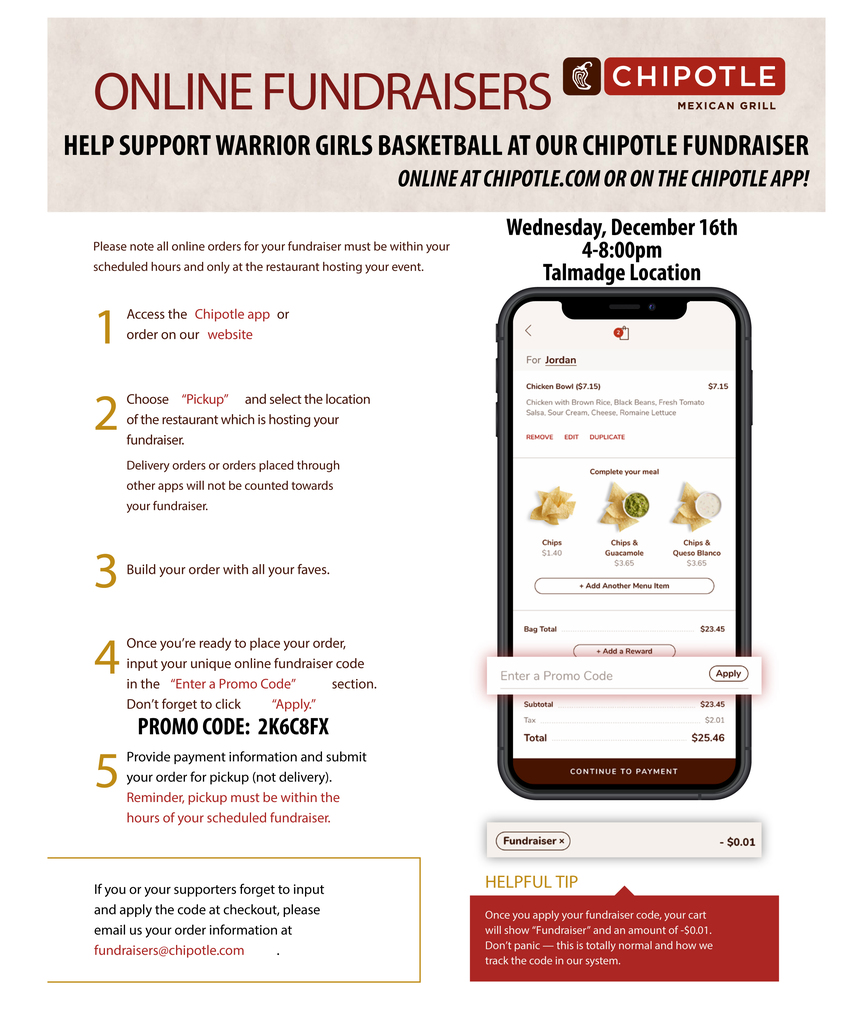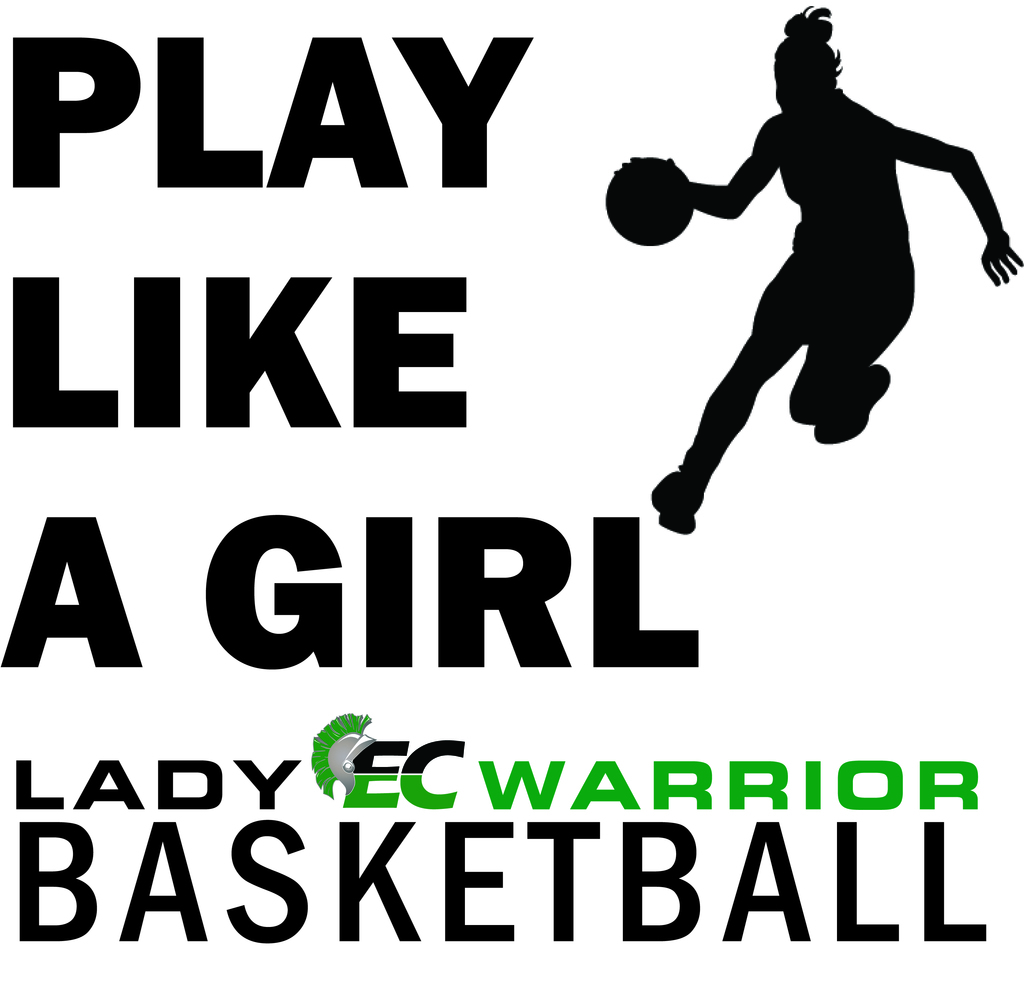 Don't know what your WARRIOR wants for Christmas? Give them an EC WARRIOR Store gift certificate! The WARRIOR store is open today until 1pm...stop by for special event discounts, new items, and gift certificates!
Don't miss out! Registration for the EC Disney Trip is open to ALL EC families and alumni. For only a $49 deposit, you can secure your spot before December 15th. Questions? Email
Yyoungblood@ecstoledo.org
. Mickey wants to see YOU!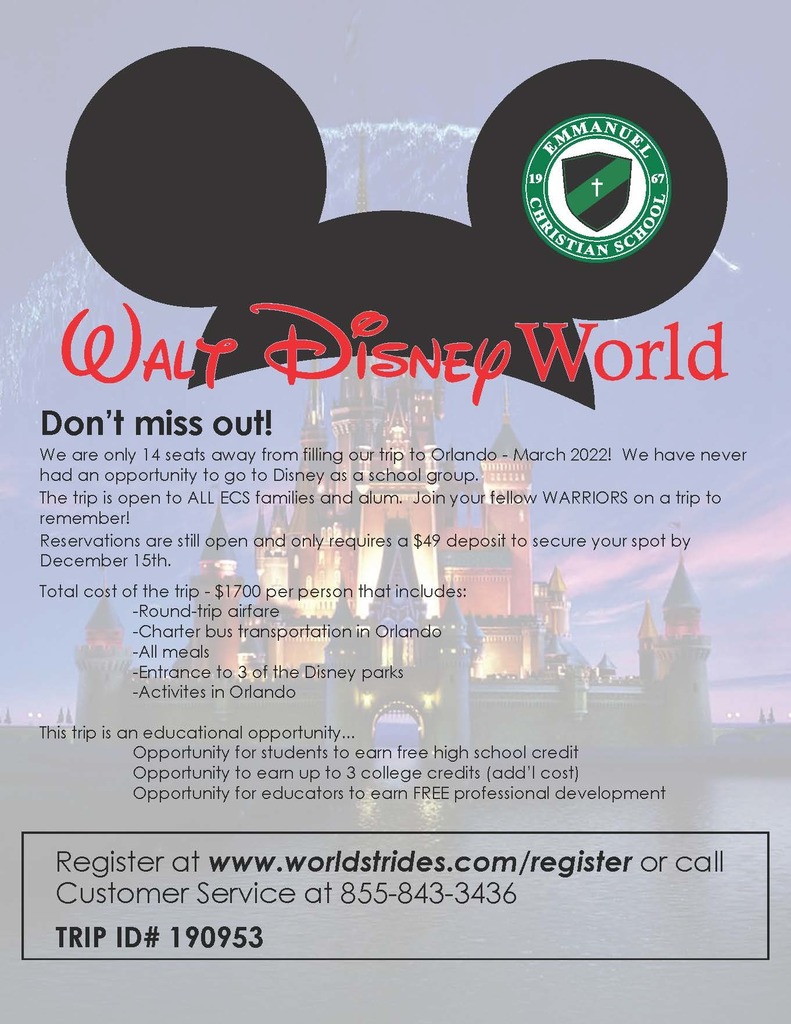 A very special birthday shout out to our fearless leader, Mr. Kevin Hofer!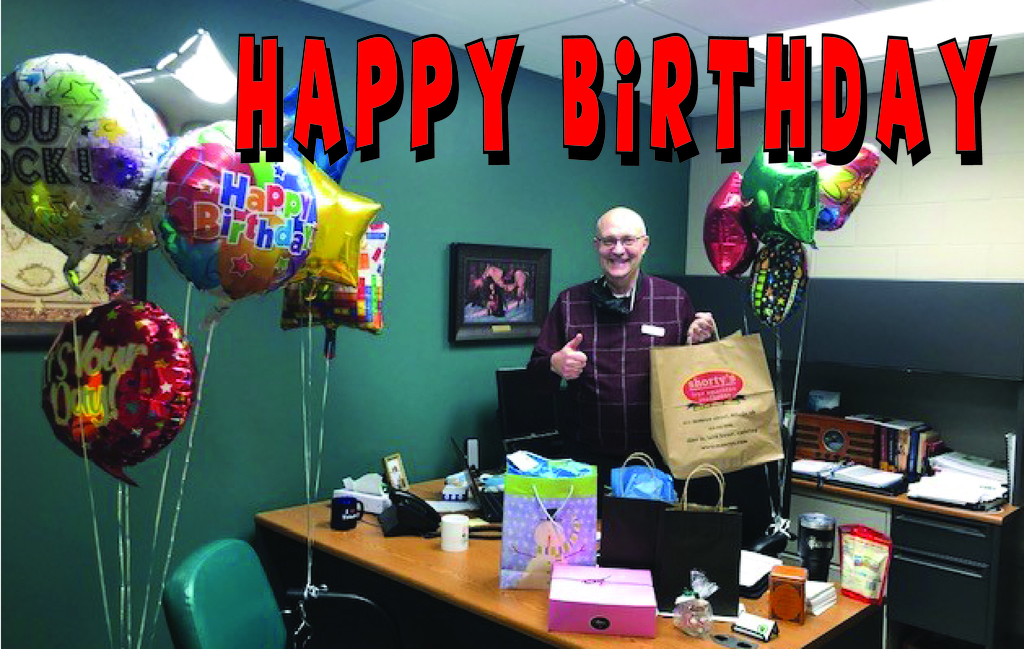 Our students are AWESOME! Congratulations to our students who achieved academic honors in the 1st quarter! We look forward to celebrating our 2nd quarter recipients before Christmas!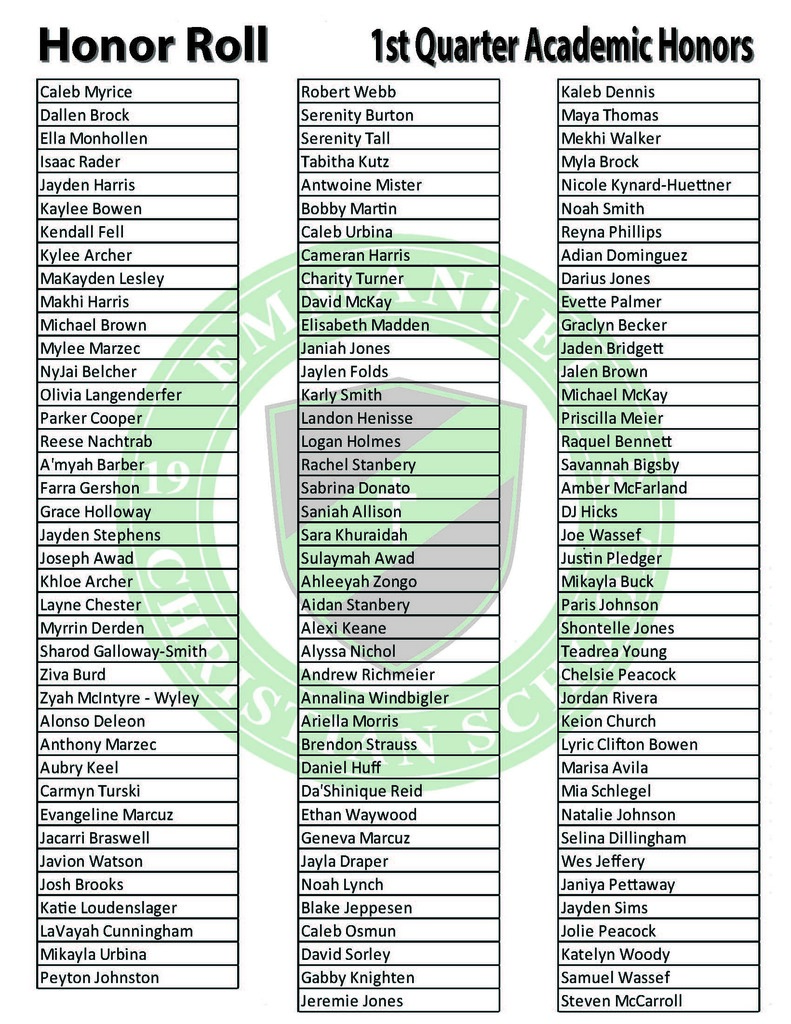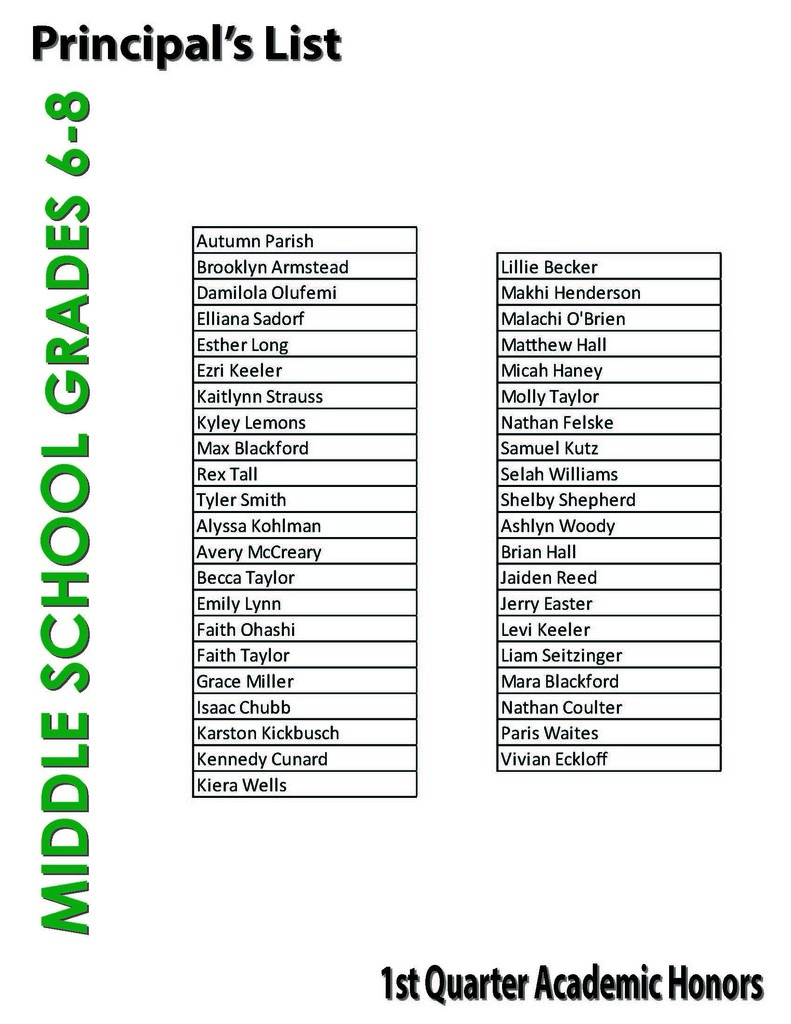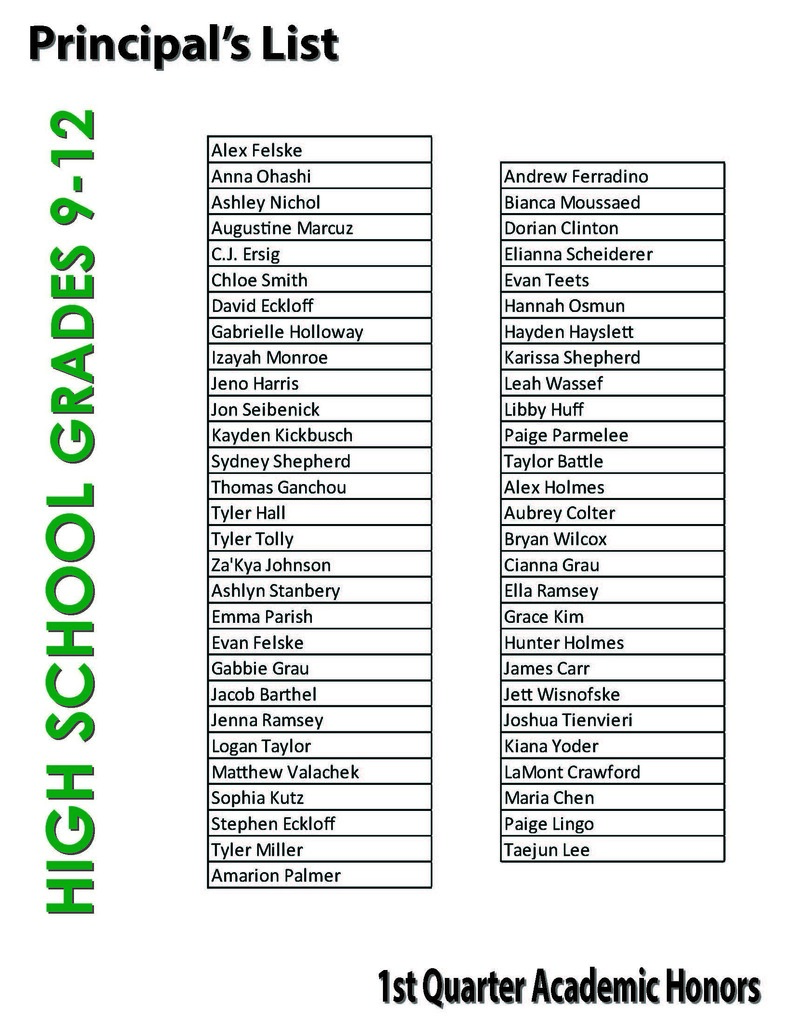 We want to keep all of our WARRIORS warm and toasty this winter! Do you have new or gently used snow gear? Share those items with us during our winter SNOW GEAR drive. You don't even have to get out of you car! Drop off your items during morning arrival or afternoon dismissal line.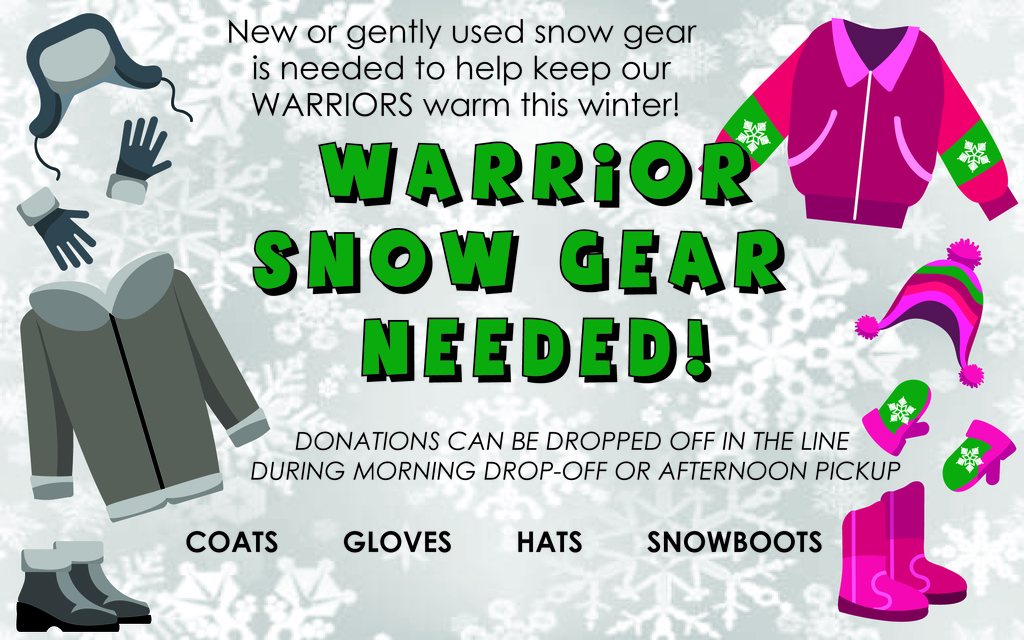 Congratulations to the proud parents, Mitch and Madison Roth!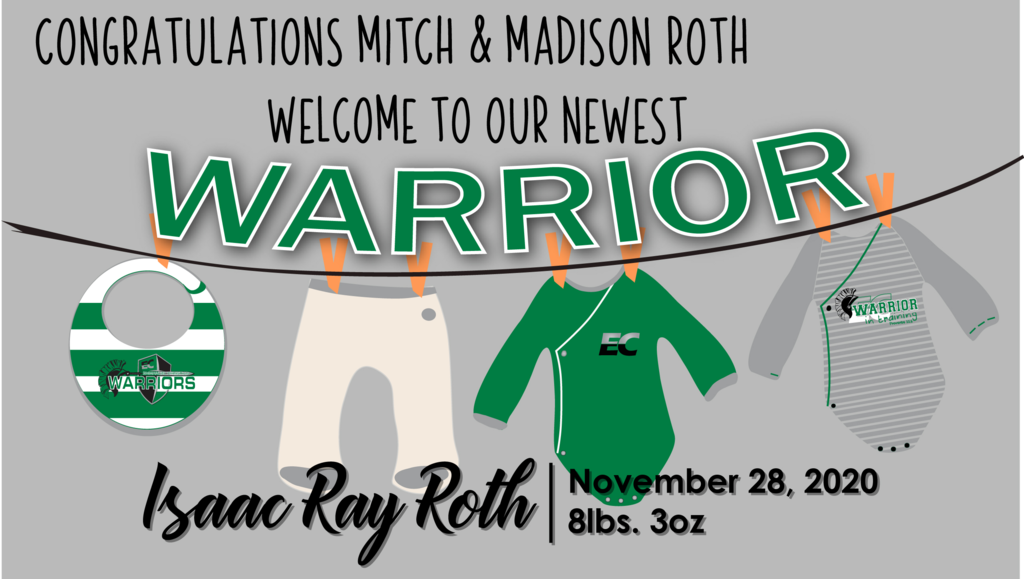 Please consider supporting NOSF, who has been such an amazing resource for so many EC families! A Night on the Polar Express Home for the Holidays Join us at home for On Track for Education: A Night on the Polar Express Home for the Holidays virtual event presented by KeyBank to benefit the Northwest Ohio Scholarship Fund (NOSF) and HOPE Learning Academy Foundation on Sunday, December 6 at 5:00 PM at
www.ontrackforeducation.org
NOSF awards need-based scholarship assistance for K-8 students to attend private schools and for homeschool expenses. In its 22nd year of awarding scholarships, NOSF has awarded $14.3 million in scholarships to 16,400 students in Northwest Ohio. HOPE Learning Academy Foundation supports the mission of HOPE Learning Academy to provide an excellent and accommodating education for children with special needs. In its 7th year, HOPE is dedicated to serving K-8 students who benefit from learning in a non-traditional classroom setting. Sponsors of this holiday event include Engineer sponsors The Aurora Group at Morgan Stanley, LaValley, LaValley, Todak & Schaefer Co., L.P.A., Ralphie's and Frisch's Big Boy as well as Ticket Master Sponsors Knight Insurance Group, International Tableware Inc., and Toledo Northwestern Ohio Food Bank. All donors to the event will be entered into a drawing to win raffle prizes and donations can be made at
www.ontrackforeducation.org
To learn more about this exciting event visit
www.nosf.org
or call the NOSF office at (419)720-7048 .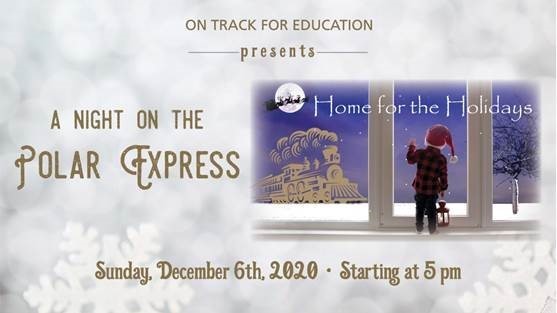 This month we are studying the ARMOR character quality of Cooperation: working together toward the same goal.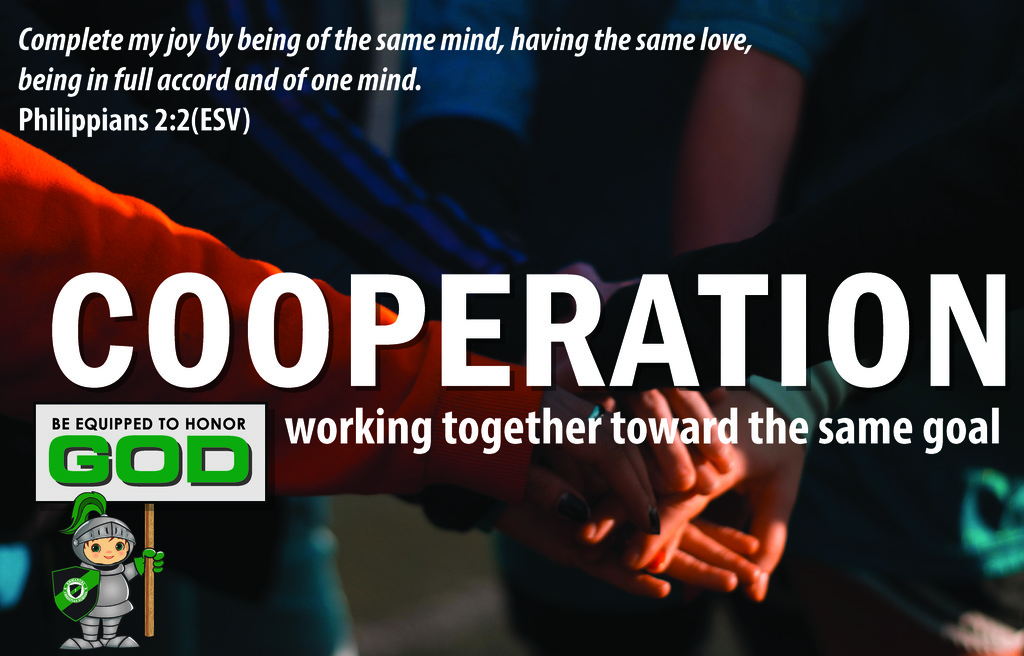 Pray with us this week!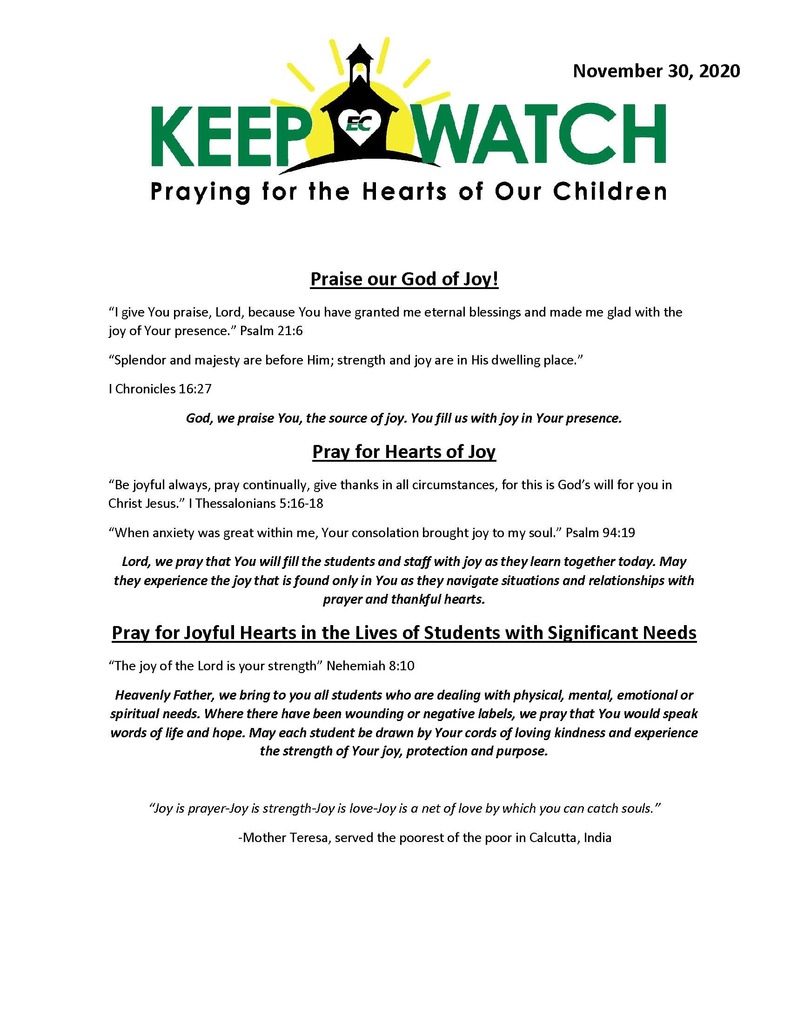 HOT LUNCH orders for December 7th through December 18th must be placed by November 29th at 6pm. Thank you for supporting EC Music!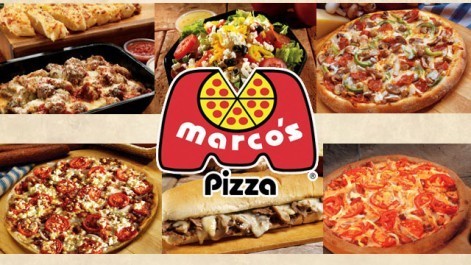 Tomorrow is the day to show your support for your favorite team during the RIVALRY Dress Down Day! (pass required to participate)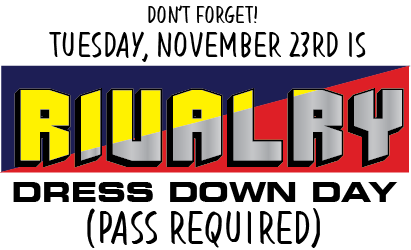 We are happy to introduce Mrs. Chelsea Lykins, the newest member of the EC faculty. She will be teaching 5th grade. Welcome to EC!