EDIT MAIN
Academically Inspired
Emmanuel Christian School – Toledo, OH is a coeducational, college preparatory school that is focused on academic excellence and the spiritual development of students from kindergarten through the twelfth grade. Our educational goal is to challenge each student to excel in their studies and to assist them in establishing the discipline and habits that will serve them well in school and beyond.
Our academic course options not only meet but exceed state guidelines. EC offers a wide variety of courses and studies that appeal to students' diverse interests. Our students not only learn in the classroom, but also through creative and supplemental learning opportunities such as field trips, special assemblies, guest speakers, and more.
Spiritually Discipled
We are committed to providing a Christ-centered education, with a foundation based on biblical truth. In keeping with our mission, we incorporate spiritual discipleship into everything we do at Emmanuel Christian School in Toledo.
Biblically-based curriculum
Weekly chapel
Small groups
Daily Bible classes
Scripture memorization
Monthly character quality focus
"I have no greater joy than this, to hear of my children walking in truth." III John 1:4
Socially Engaged
Students use their gifts, talents, and love for Jesus Christ to serve others and the world around them.
Our desire for each student is that they will have a heart for Christ and a servant's heart toward others. Students are encouraged to serve others with their local churches and throughout each school year at Emmanuel Christian School in Toledo.
Our students serve through:
National Honor Society
Students in Action
EC Student Ambassador program
Guardian Warriors
Community ministries
Short-term missions
Music performances
...and more!
WELL-ROUNDED
At EC, we recognize that each student is created by God with unique skills, interest, gifts, and talents. We strive to provide a wide variety of co-curricular and extra-curricular activities and opportunities where our students can develop their God-given gifts and talents.
Here are just a few of the student activities and programs at Emmanuel Christian School: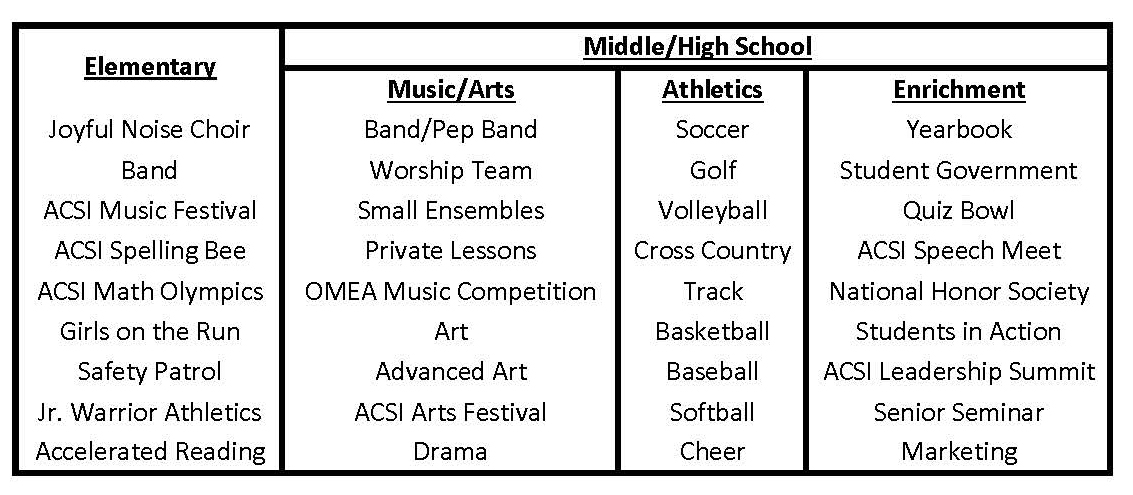 Prepared for the Future!
Emmanuel Christian School of Toledo has a 100% graduation rate, with 95% of our graduates attending college or enlisting in the military after graduation. Our students attend some of the finest Christian and secular colleges and universities in the nation.
EC Graduates have gone on to attend:
THE Ohio State University
University of Michigan
Penn State University
Grace College
Cedarville University
University of Toledo
Taylor University
Michigan State University
Lee University
Bowling Green State University
Liberty University
Huntington University
Cornerstone University