Congratulations to Lamont Crawford, EC Class of 2021! Lamont will pursue a career in Fire & Rescue after graduation.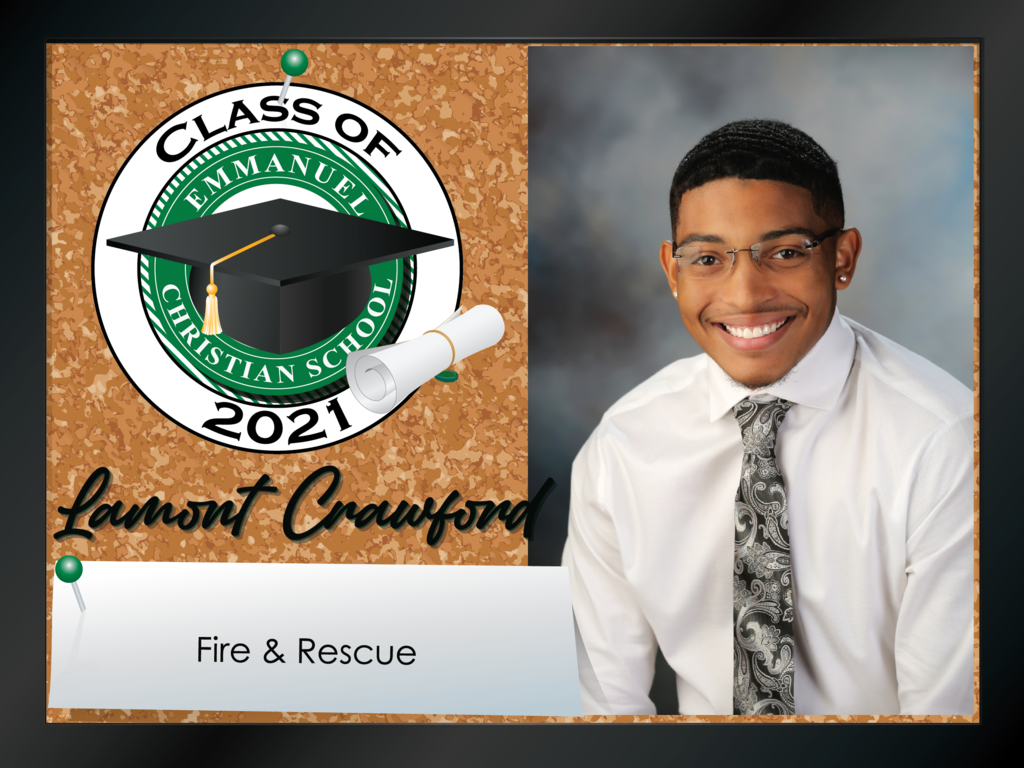 Congratulations to Aubrey Colter, EC Class of 2021! Aubrey will be attending Kettering University where she will major in Engineering.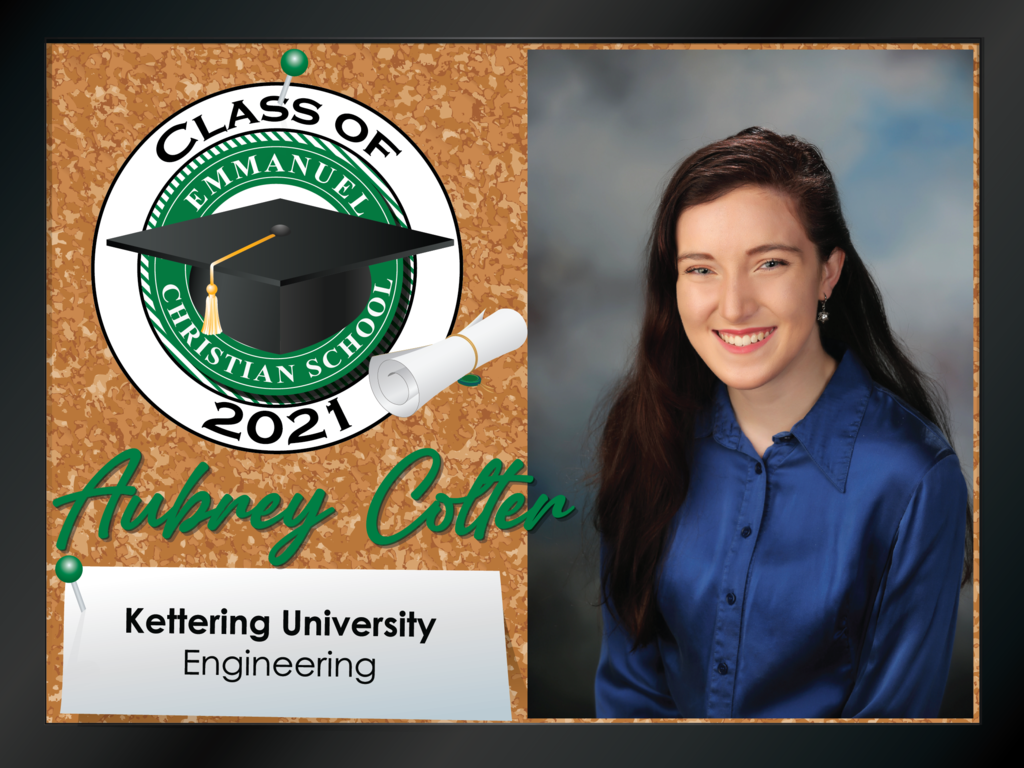 Congratulations to Maria Chen, EC Class of 2021! Maria will be attending Case Western Reserve University. Her major is undecided at this time.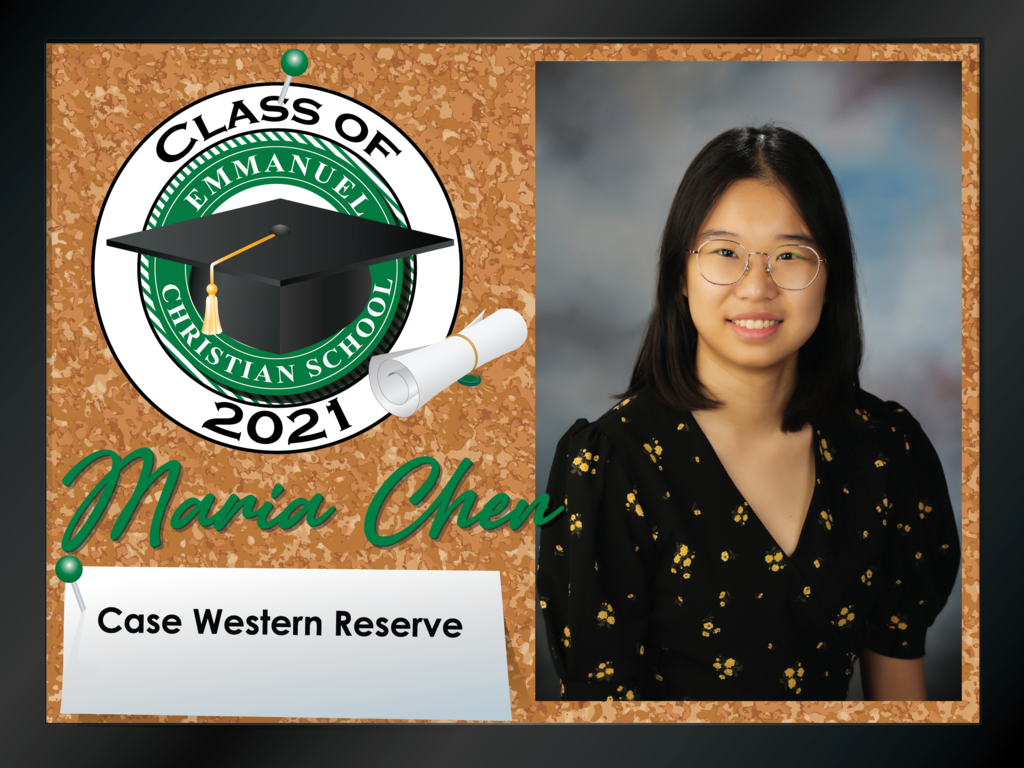 Congratulations to James Carr, EC Class of 2021! James will be attending the University of Toledo where he will major in Nursing.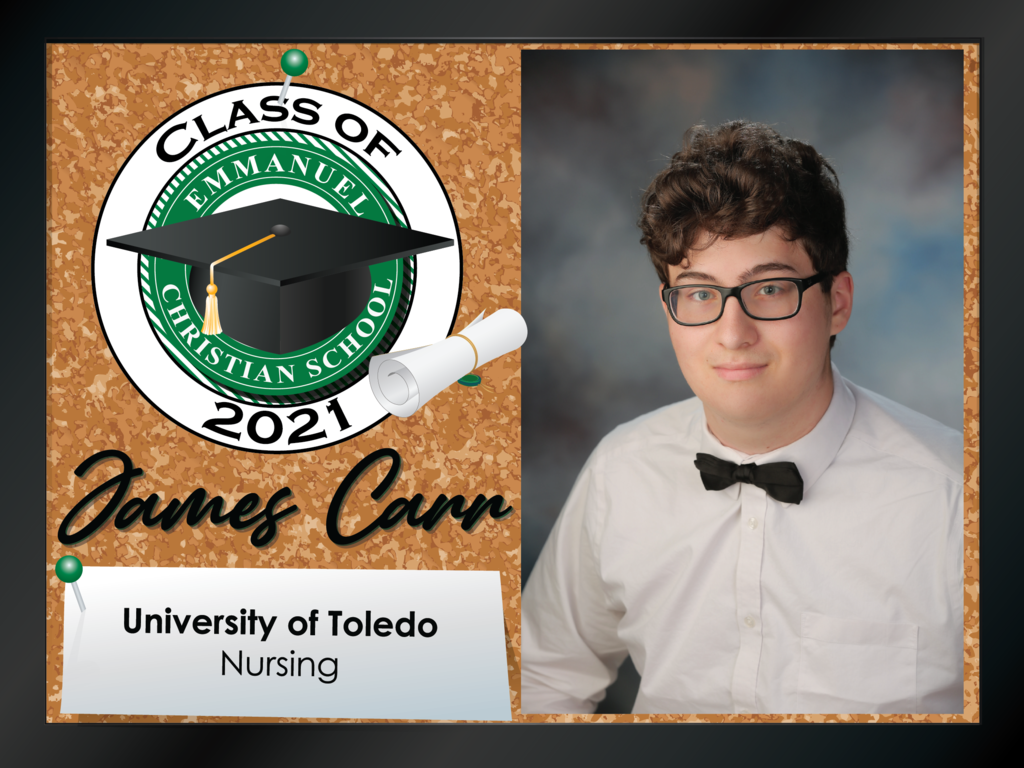 Congratulations to Jacob Awad, EC Class of 2021! Jacob will be attending the University of Toledo where he will major in Business or Law.
Emmanuel Christian School is pleased to present the Class of 2021 Salutatorian Ella Ramsey! Ella will be attending Bowling Green State University where she will major in Digital Arts & Design. Congratulations Ella on this outstanding achievement!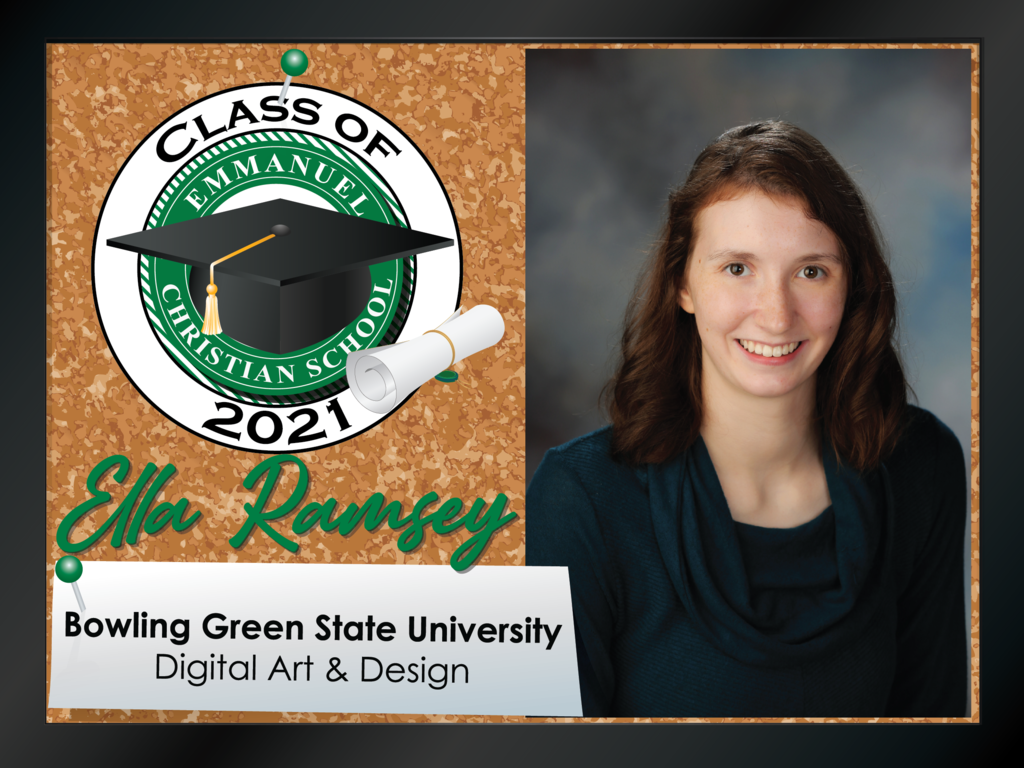 Emmanuel Christian is pleased to announce the Class of 2021 Co-Valedictorians, Grace Kim and Bryan Wilcox! Grace will be attending the University of Toledo Jesup Scott Honors College to major in Business Administration. Bryan will be attending Grand Canyon University where he will study Secondary Mathematics Education. Congratulations to Grace and Bryan for this outstanding accomplishment!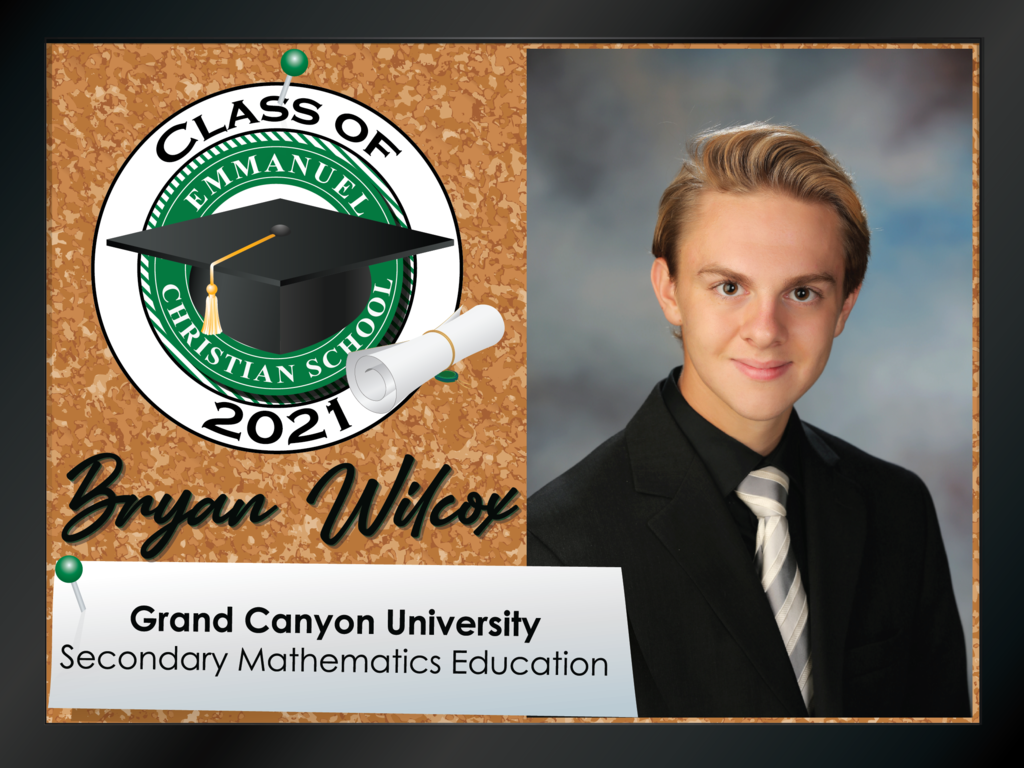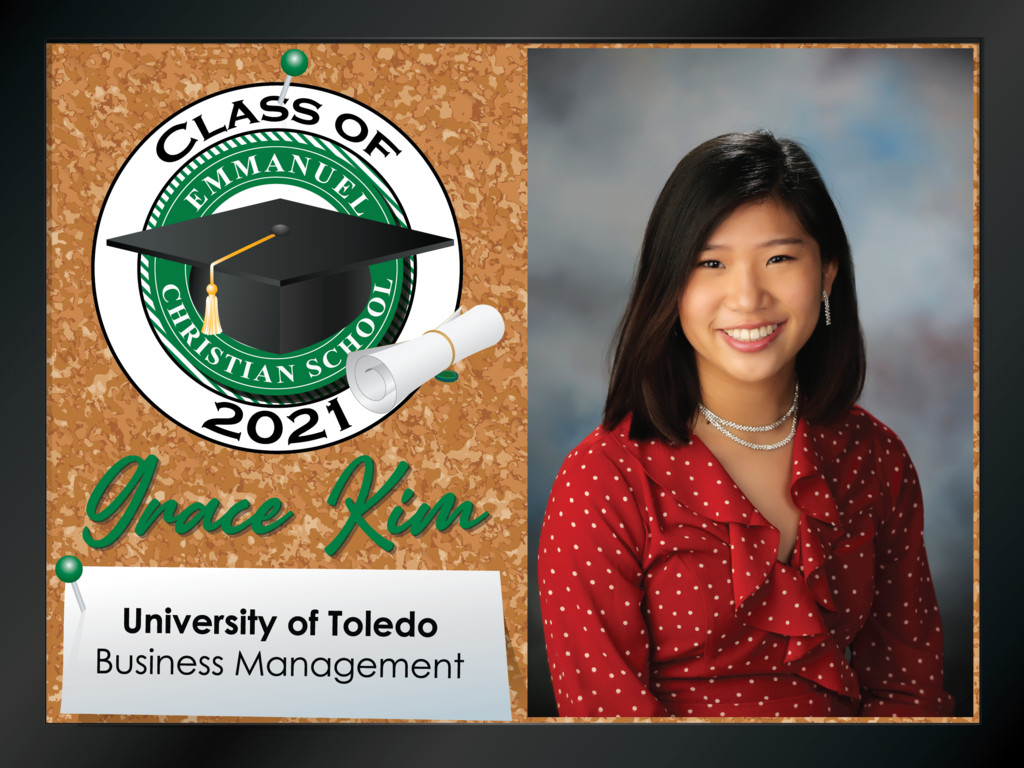 KidVenture Summer Camp is almost here! Are you looking for a great summer program for your students? Register for KidVenture by the day or for the whole summer! Camp starts on Monday, June 7th! Campers will enjoy fun field trip, learning labs, and fun activities throughout the summer. Register your student today at
https://forms.gle/6XwgFcibFaLH7AuC9
A few spots are still open.

It's the last week of the 20-21 school year! Pray with us this week!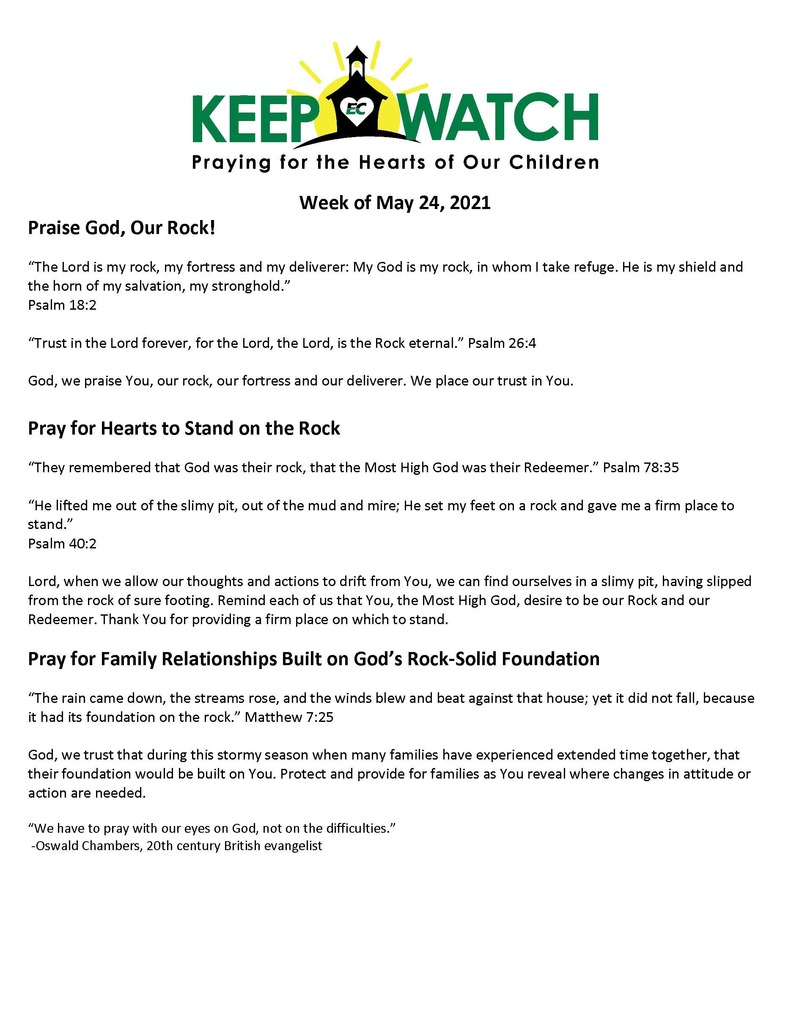 Congratulations to our Elementary WARRIORs of the Month who have demonstrated the character quality of HUMILITY! Mrs. Ganchou's class: Elijah Dolt Mrs. Stout's class: Aidan O'Brien Mrs. Wilt's class: Lianna Sherman Miss Jutte's class: Neko RIos Mrs. Pierce's class: Ezri Bernhard Mrs. Skiver's class: Arie Haynes Mrs. Tolly's class: Meleah Mann Mrs. Holloway's class: Xavier Lewis Mrs. Henisse's class: Greyson Hamilton Miss Wilcox's class: Emily Hepner Mrs. Ruiz's class: Derek Shanteau Mrs. Kickbusch's class: Taylor McClellan Mrs. Sampson's class: Alexis McCreary Mrs. Lykins' class: Justus Windbigler Congratulations students!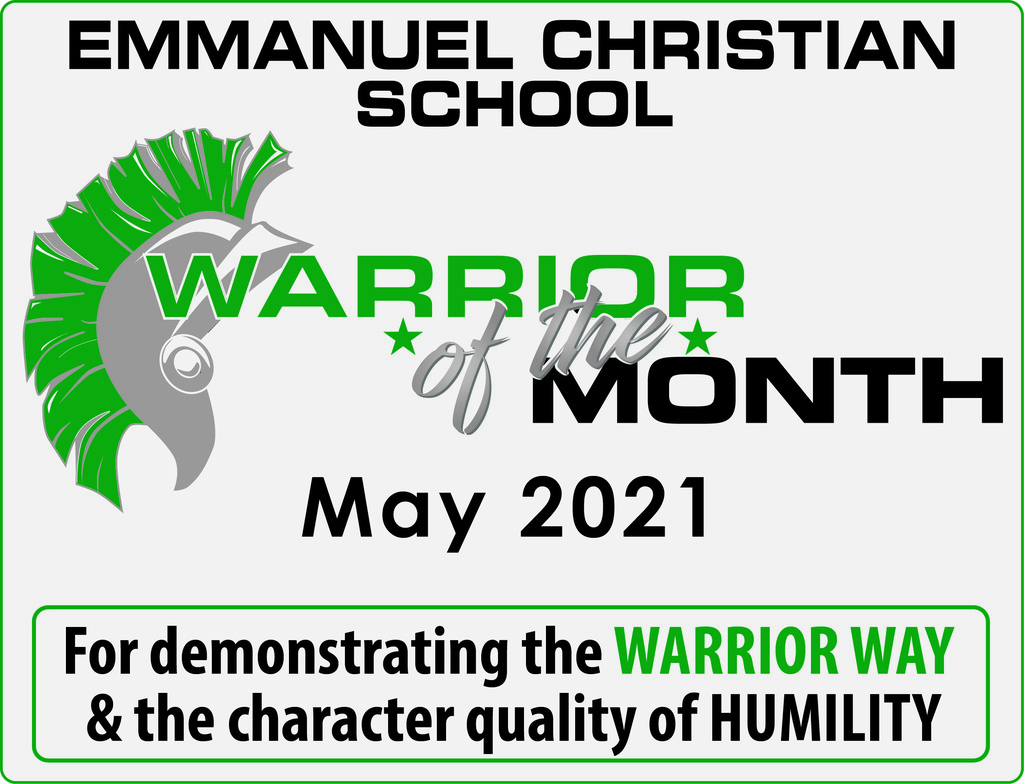 Congratulations to our 2021 Prom King and Queen: Jayden Sims and Janiya Pettaway! Thank you to the class of 2022 for hosting an OUTSTANDING Jr Sr Prom! Students enjoyed a great evening out at Nazareth Hall, followed by a fun afterparty. Thank you for all of your hard work in planning this special evening.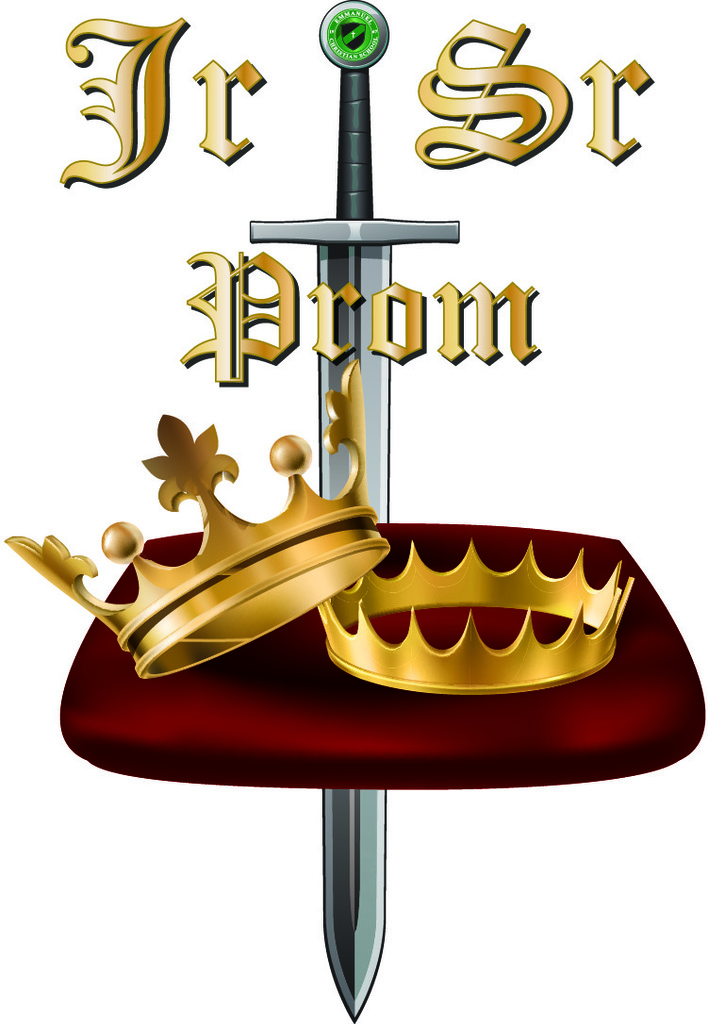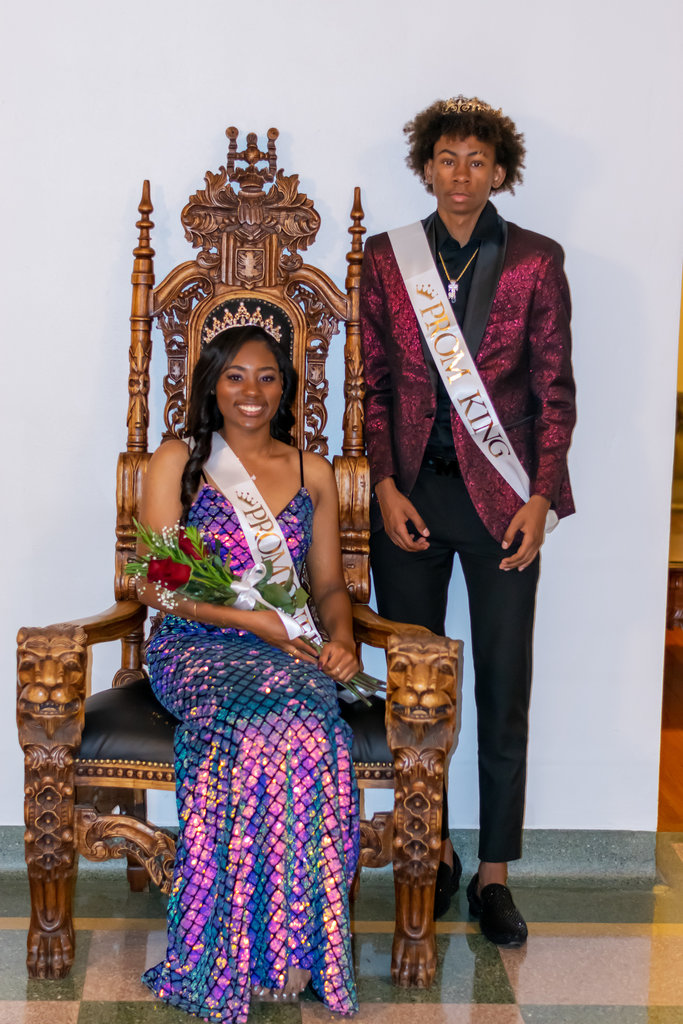 WOW! Our WARRIORS have talent! EC's Middle and High School Bands and Choir participate in the ACSI Music Festival in April. ALL received the top ranking of SUPERIOR! Their numerous hours of rehearsal and hard work certainly paid off! A big thank you and shout out to Miss Yvonne Youngblood, Mrs. Michelle Sampson, and everyone who helped our students earn this top honor.
Join us for the EC Spring Music Concert tonight at 7pm in the Parmlee Gym. Enjoy an evening of great music performed by our talented WARRIORS! Social distancing and masks required!
Congratulations Jett Wisnofske & Elianna Scheiderer, our Athletes of the Week!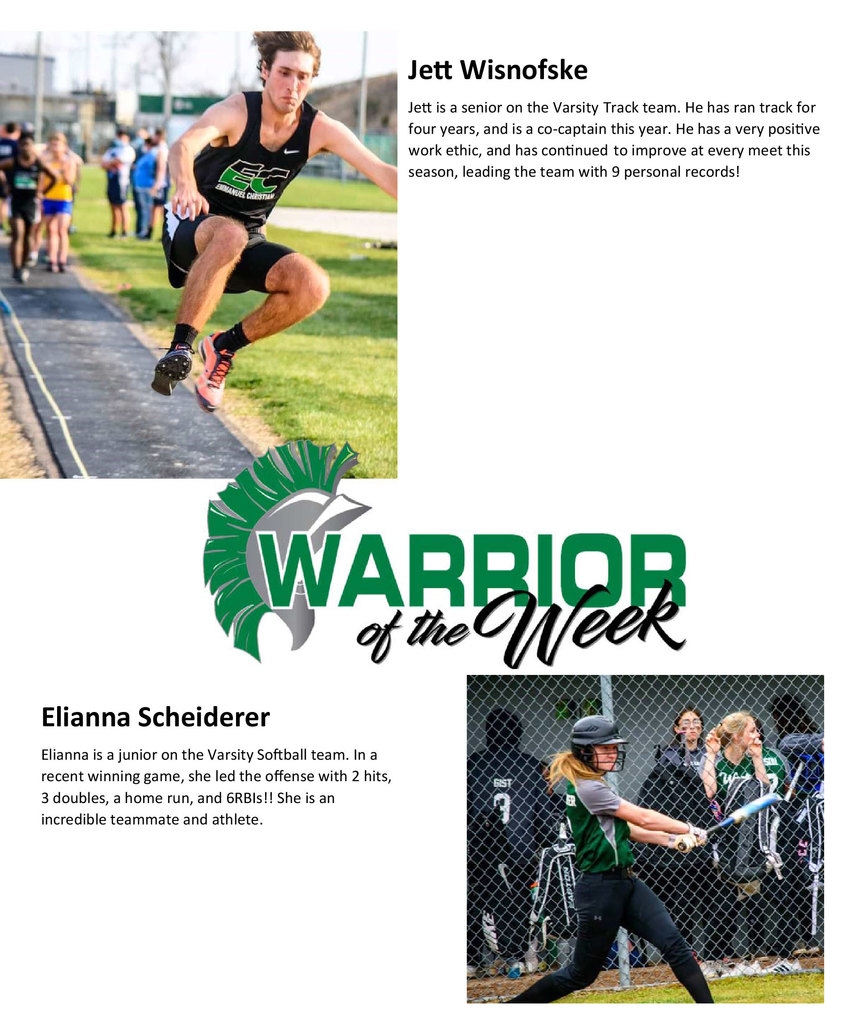 EC's Students in Action is holding a BOOK DRIVE! All books collected will be given to help Mosaic Ministries and their guests. Drop off your gently used (and loved) books now through May 21st.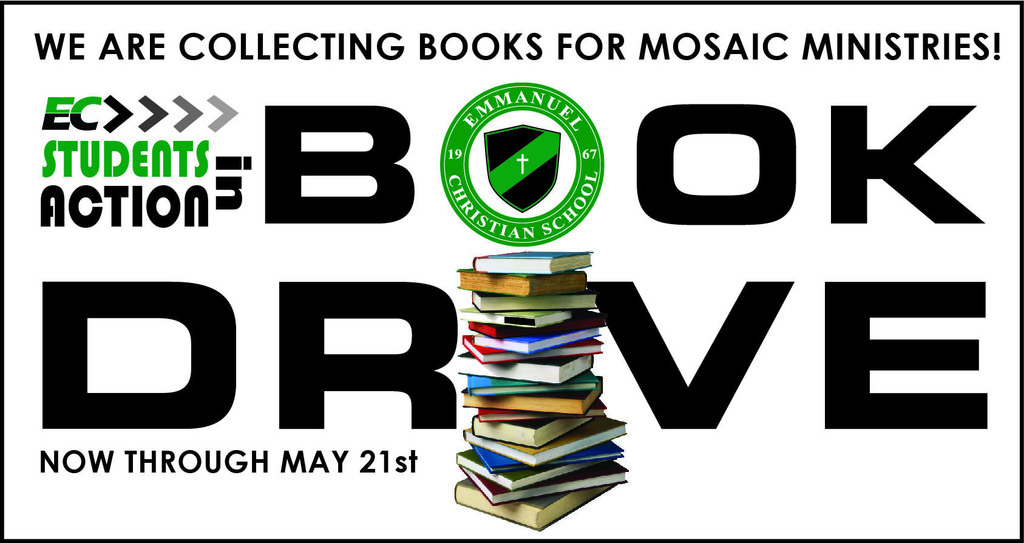 Congratulations to our 7 seniors who took the AP English Literature & Composition Exam today! They have been working hard all year preparing for this day and here we are! As Mrs. Lee says, "Well done APeeps"! Cianna Grau, Taejun Lee, Jolie Peacock, Ella Ramsey, Josh Tienvieri, Bryan Wilcox, and Jett Wisnofske!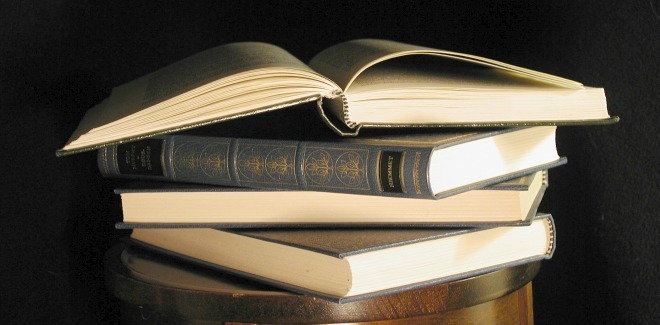 Emmanuel Christian's National Honor Society is proud to sponsor our next blood drive with the American Red Cross on May 24th. This is a great way for students of 16 years or older, parents, or other guests of an Emmanuel student to give back to the community. (Please note that students who are 16, must get a parental consent form from the office and bring it back signed in order to be able to sign up.) An estimated 38 percent of Americans are eligible to give blood or platelets, but of those, less than 10 percent actually donate each year. One donation of blood can save up to three lives and affect many more. If you are healthy and eligible, please come out to donate. Most donations take about an hour, so book your appointment, roll up your sleeve and become a part of the lifesaving mission of the Red Cross! Drive Details: Drive Date: Monday, May 24, 2021 Drive Times: 1pm -6om Emmanuel's primary contact: Leah Wassef You can sign up by emailing Leah at
lwassef23@warriors.ecstoledo.org
or by going on the Red Cross' website at RedCrossBlood.org There are many ways you can help, but most importantly we hope you come out to donate.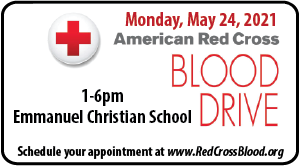 Our last ARMOR character quality for the 2020-21 school year is Humility: a modest view of one's own importance.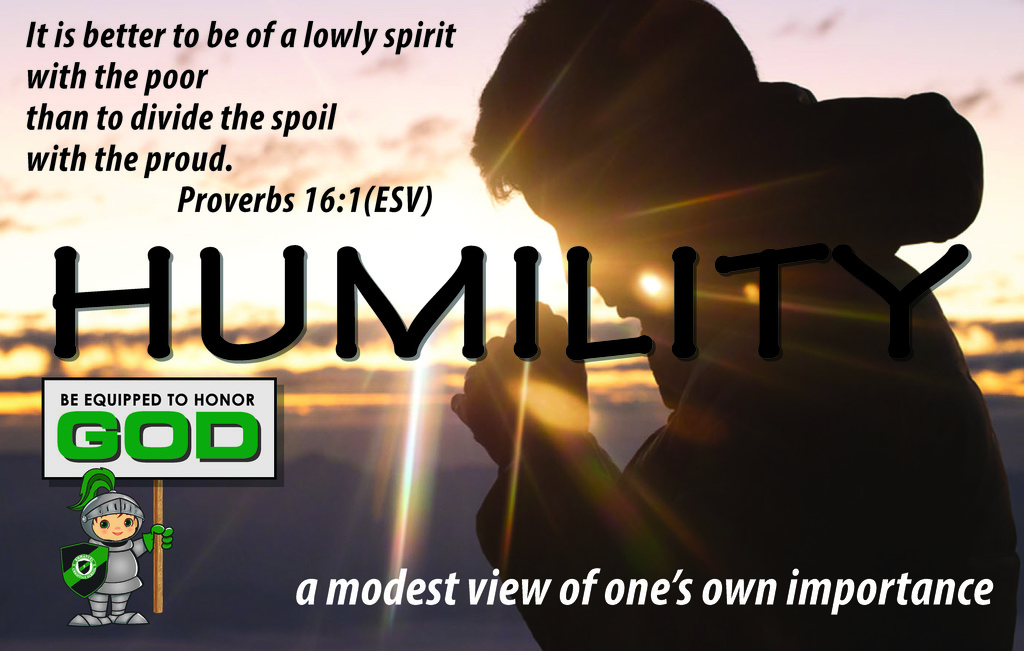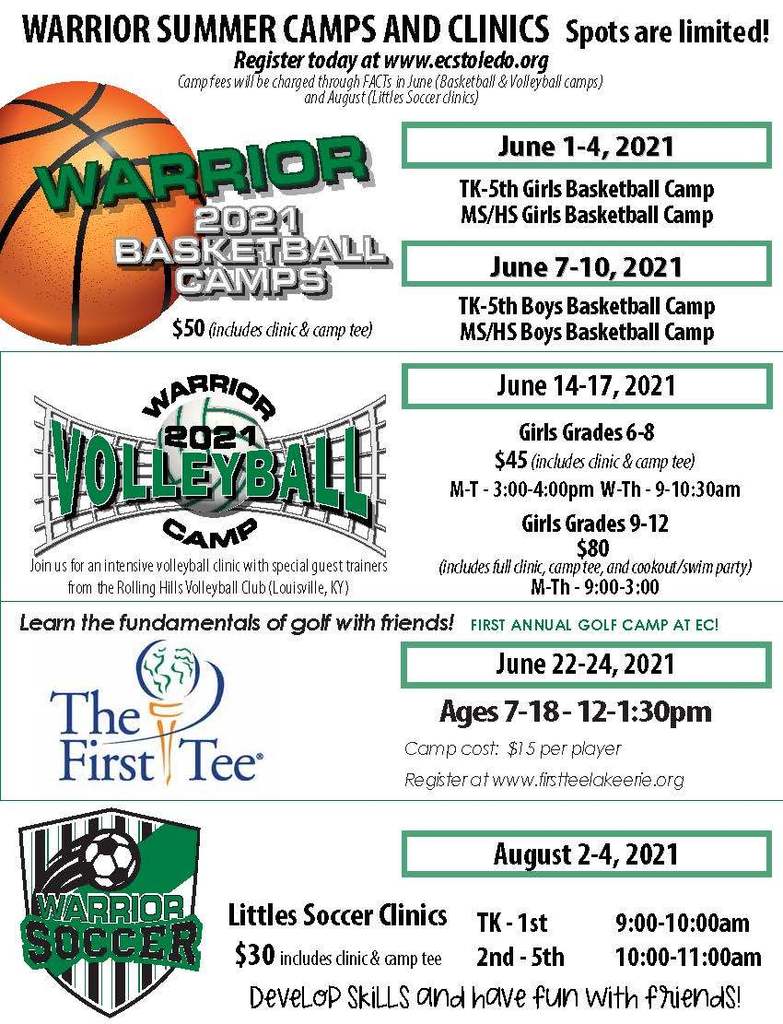 Our students in grades TK - 5th have already read over 11,000 minutes! Parents! Tomorrow is the last day to turn in your student's Reach for the Stars Reading Challenge packet (be sure to include their wish list!). Great job WARRIORS!